When Navy Ensign Frank William Crilley joined the service, he likely didn't realize he would become the hero of some of the country's most dramatic undersea rescue and salvage operations of the 20th century. The master diver excelled in his craft, broke records and earned both the Medal of Honor and the Navy Cross along the way. 
Crilley was born Sept. 13, 1883, in Trenton, New Jersey, to parents Frank and Mary Crilley. He had a brother, Lawrence, who also served in the Navy, according to the Congressional Medal of Honor Society. The family lived in Newton, New Jersey, and in Philadelphia, which is where Crilley joined the Navy at just 16 years old in March 1900.  
Crilley started his service as a gunner's mate but became a master diver as the years went by. According to a March 2002 issue of Faceplate, an official newsletter for Navy divers and salvors, Crilley was one of the first members of the service's experimental dive team. He helped implement hard hat diving in the Navy and played a pivotal role in the development of submarine rescue procedures that continued to be used into the 21st century. 
Breaking a Deep-Sea Diving Record 
The first time Crilley really made a name for himself was about 15 years into his career.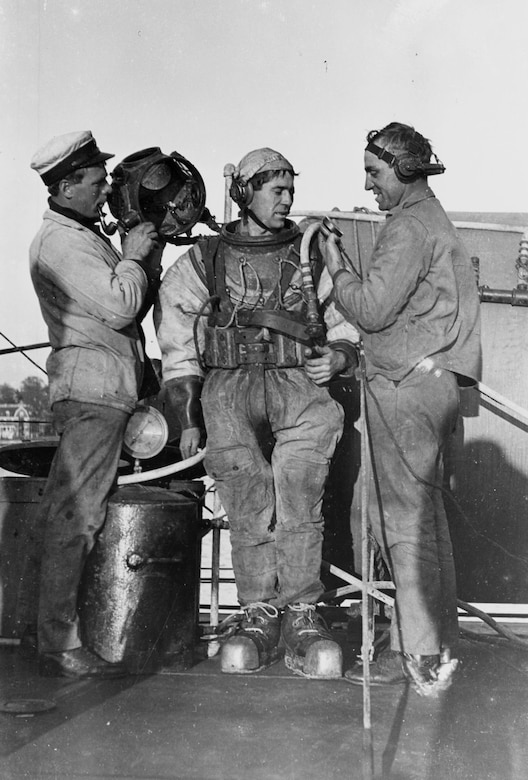 On March 25, 1915, the submarine USS F-4, which was one of the first to be assigned to the new naval facilities in Pearl Harbor, Hawaii, disappeared while on patrol off Honolulu's harbor. Officials eventually determined that its battery tank corroded, causing the commanding officer to lose control of the ship. It sank about 1.5 miles off Fort Armstrong in about 300 feet of water, killing all 21 sailors aboard.  
The salvage operation would prove difficult because no one had ever raised a ship from those depths before. According to an issue of the Navy's All Hands Magazine, there were few deep-sea divers at the time, and escape and salvage equipment tailored for submarines didn't yet exist. 
Regardless, within a few days of the sub's sinking, the Navy put together a team to try to salvage it. Five members of the service's experimental dive team — G. D. Stillson, Frederick Neilson, Stephen Drellishak, William Loughman and Crilley — arrived in Honolulu on April 14. Specialized dive gear, a recompression chamber and a diving physician came with them. The team had been experimenting with deep sea diving off the coast of Long Island, New York, prior to being called into action.  
Two days later, Crilley made the first dive of the operation and found the ship at about 305 feet below sea level — a deep-sea diving record that stood for 25 years. Crilley noticed that the ship was still upright, but giant cables would have to be fastened around it to eventually lift it and move it to shore.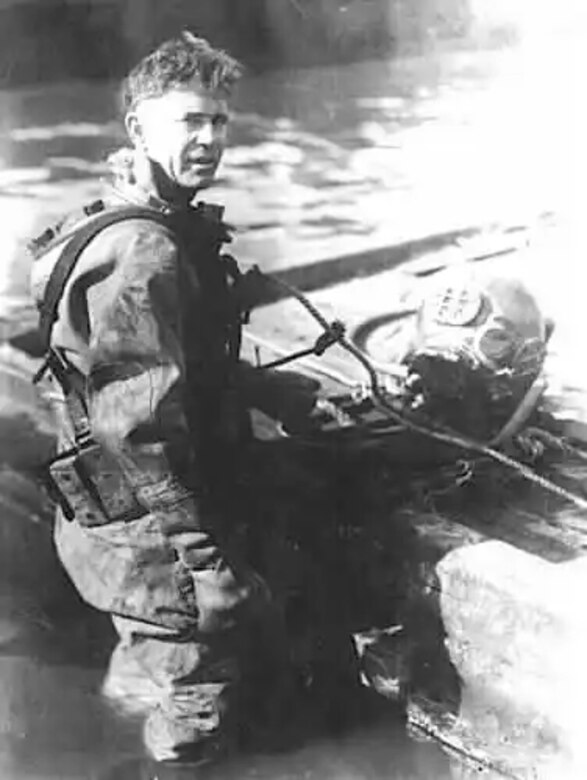 According to All Hands Magazine, it was a tedious job; to get 20 minutes of dive time at 300 feet, about three hours were required for the descent and ascent. Deep water divers need to descend slowly to allow air spaces, such as in the ears and mask, time to equalize to the pressure changes. Slow ascents are required, too, because divers can build up nitrogen in their tissue due to breathing pressurized air. A slow return to the surface gives the body time to eliminate that nitrogen and reacclimate without risking decompression sickness.  
Saving a Friend 
On April 17, the second day of the operation, the situation became perilous. Loughman had been working on one of the cables before starting his ascent back to the surface. At a depth of about 275 feet, he paused to rest beside the cable. Around the same time, a ground swell caused the cable to jerk and smack into him, fracturing his hip. Loughman managed to cling to the cable, but his lifeline and airhose became so badly tangled in the cable that he wasn't able to free himself. He was trapped. 
When the men on the surface realized what had happened, Crilley immediately volunteered to help his comrade. Despite still recuperating from his own deep dive just two hours prior, Crilley put his diving suit back on and started to descend. When he reached Loughman's level, Crilley asked if he could transfer his own lifeline to the injured diver. That idea was quickly shot down, so Crilley had to instead go back to the surface — much faster than a diver usually would — to get another line. He then went back down to attach it to Loughman. Once the line was secure, Crilley loosened up Loughman's tangled lines as the crew pulled the injured man back to the surface.  
Loughman, who had been stuck underwater for four hours, survived the ordeal. He had to spend nine hours in a recompression tank and several months in a hospital, Navy records showed. Crilley struggled upon his return to the surface, too, but was rehabilitated after a few hours of recompression and was able to continue with the mission.  
It took several more months for the F-4 to be salvaged. It was finally raised by specially constructed pontoons on Aug. 29, 1915, and towed to Pearl Harbor.  
Crilley's lifesaving actions earned him high praise, including the Silver Lifesaving Medal, which was issued to him by the Coast Guard in April 1916, according to the Philadelphia Public Ledger. It took 13 more years for him to be nationally recognized with the Medal of Honor, which he received on Feb. 15, 1929, from President Calvin Coolidge during a White House ceremony.  
Becoming a Legend 
After the life-saving incident with Loughman, Crilley continued to make a name for himself in the diving world. In 1917, he was appointed to the rank of chief warrant officer, and about a year later, he became an ensign in the Naval Reserve. He commanded the USS Salvor in 1919 before leaving active duty in July of that year. In the mid-1920s, he was involved in the salvage of USS S-51, which sank in 1925. 
By 1928, Crilley had returned to active duty for a mission that would earn him the Navy Cross. He was brought back in to work on the recovery of the submarine USS S-4, which sank as the result of a collision off the coast of Provincetown, Massachusetts, on Dec. 17, 1927. In the months that followed, Crilley made several treacherous descents into the icy waters of the Atlantic to prepare the vessel to be raised, which finally happened on March 17, 1928. 
According to various newspapers, Crilley left active duty again around 1930 but remained in the fleet reserve doing dive missions. This included a stint as the master diver on the submarine USS Nautilus as it embarked on a 3,000-mile journey to the North Pole in 1931. According to All Hands Magazine, famed explorer Sir Hubert Wilkins credited Crilley's dives on that expedition for much of its scientific accomplishments.  
Crilley was also part of the salvage work done on the presidential yacht USS Mayflower, which sank in 1931. He had his name transferred to the retired list in May 1932 but was called up by the Navy again in 1939 to help with the salvage of the USS Squalus.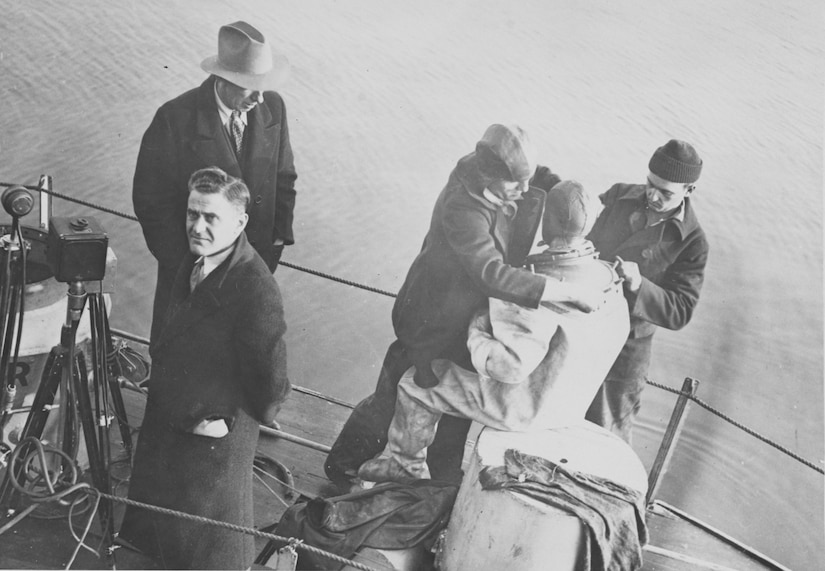 Outside of his dive career, Crilley raised a family. He married Gertrude Kelly in 1914, and they had two children together, Frank Jr. and Mary. Gertrude died in 1926, which led Crilley to eventually get remarried to Anne Moody.  
Crilley died at age 64 on Nov. 23, 1947, at the Brooklyn Naval Hospital. He was buried with full military honors in Arlington National Cemetery.  

Crilley is remembered as a pioneer of naval diving. A heavy salvage lifting craft that was purchased by the Navy in 1967 was named in his honor. As recently as 2002, a new diving facility at the Consolidated Divers Unit in San Diego (now part of the Southwest Regional Maintenance Center) was dedicated in his memory.  
This article is part of a weekly series called "Medal of Honor Monday," in which we highlight one of the more than 3,500 Medal of Honor recipients who have earned the U.S. military's highest medal for valor.