Philly's Newest Batch of Must‑Try Restaurants
GET READY TO FIND A NEW FAVORITE
Having trouble keeping track of all the awesome new restaurants popping up in Philadelphia? We've put together a handy guide to help you stay ahead of the culinary curve. From conveyor‐belt sushi spot Kura Sushi to plant‐based Italian BYOB Pietramala, there are oh so many places to add to your list of can't‐miss meals in Philly.
The Biggest Events, Festivals & Exhibitions in Philadelphia This Spring
TAKIN' IT TO THE (CITY) STREETS
The winter chill gives way to a season of chill vibes as spring marks the beginning of street festival season in Philadelphia. With live music, cold beverages and food vendors galore, returning neighborhood faves like the Manayunk StrEAT Food Festival and South 9th‌ Street Italian ‌Market Festival put the 'party' in block party this spring.
Enjoy the Magic of Cherry Blossoms in Philly
DON'T MISS PEAK PETAL PEEPING
Philly's bevy of cherry trees put on a show this time of year, with budding blossoms adding pops of color to parks and streets from river to river and beyond. Looking to catch the colors during peak bloom? That takes a little bit of planning. Luckily, we've put together a guide to the best spots (and best times) to stop and smell the...blossoms.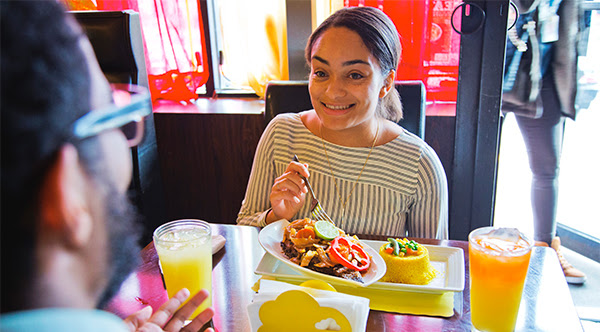 A World of Halal Awaits in Philly
FOODIES, TAKE NOTE
Philly is home to a number of proud and flourishing Islamic communities. With Ramadan coming up later this month, we've highlighted some of the top places to enjoy halal meals, from Indonesian street delicacies to classic American soul food, in Philadelphia.
Hotel Packages & Deals to Book Now
PACK YOUR TRIP WITH BIG‑TIME PERKS
Whether you're hungry for dining deals, traveling with a furry friend or looking for some kid‐friendly fun, Philly has a deal for you. If you're ready to maximize your stay, we've got you covered with these exclusive hotel packages.
Things to Do This Week & Weekend
TIME TO LOCK IN YOUR PLANS
This week, a Broadway production of CATS brings classic showtunes and un‐furr‐gettable costumes to the stage at the Miller Theater. Head out to the 'burbs to snap a selfie in Monica's apartment at The FRIENDS Experience at the King of Prussia Mall. And make a night of it by cashing in on some mouth‐watering dining deals during King of Prussia Restaurant Week. Plus, catch all the March Madness action at Philly's top sports bars.