More than 10% of the US population is now an online sports bettor

March 29, 2023 (New York, NY) – The sports betting industry continues to grow by double digits in the US and will pass several milestones this year, according to the latest forecast from Insider Intelligence.
The total sports betting handle* (the total amount of money wagered in legal sports bets via retail sportsbook, online sportsbook, or lottery parlay card) will grow 45.0% this year to $136.63 billion, surpassing $100 billion for the first time. Double-digit growth will continue, and in just two years, the total handle will exceed $200 billion. For context, just five years ago the total sports betting handle was only $4.62 billion.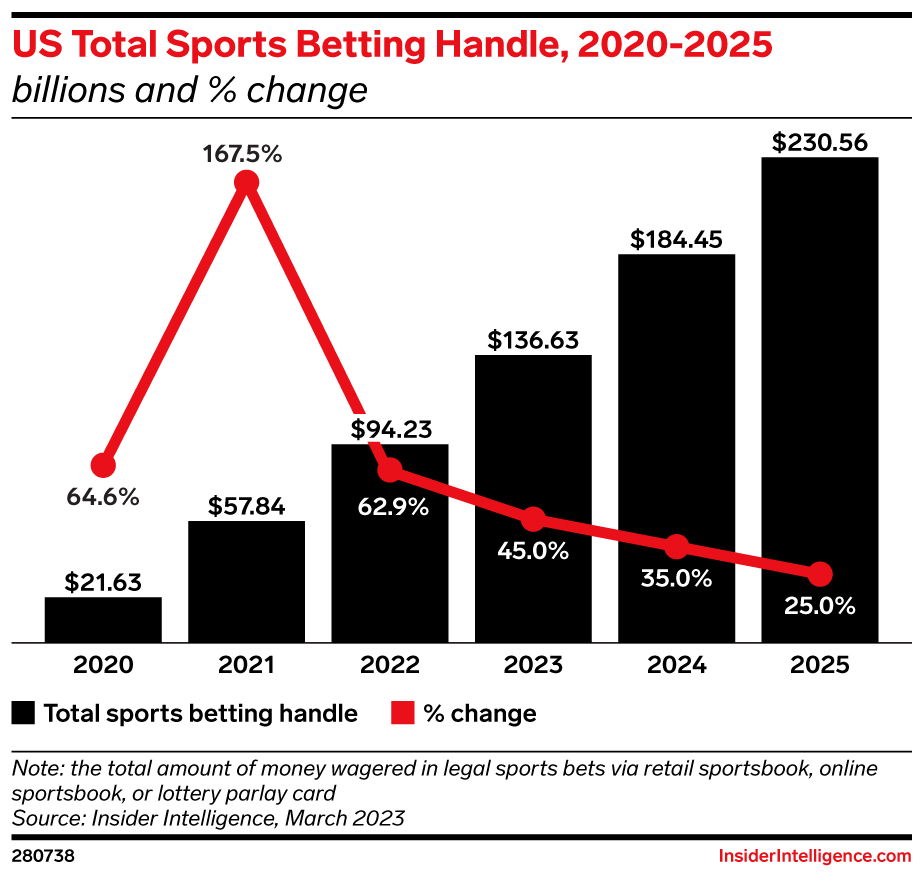 The majority of sports betting is done online. This year, 94.0% of sports betting activity will take place via online sportsbook, equating to $128.46 billion in online handle. That portion will only continue to grow over the next two years.
"Prior to 2018, the only state where active sports gambling was legal in the US was Nevada," said Andrew Spink, forecasting analyst at Insider Intelligence. "By the end of 2019, the sports gambling handle had jumped 184% to $13 billion, as 13 states allowed active sports betting. The next big wave came in 2021 when the number of states with legal sportsbooks reached 26, and the handle jumped 167% to $58 billion."
Total sports betting revenues* (money collected minus winnings) will climb 46.0% this year to surpass $10 billion for the first time. Double-digit growth will continue over the next two years, as revenues approach $20 billion. Nearly all sports betting revenues are generated online.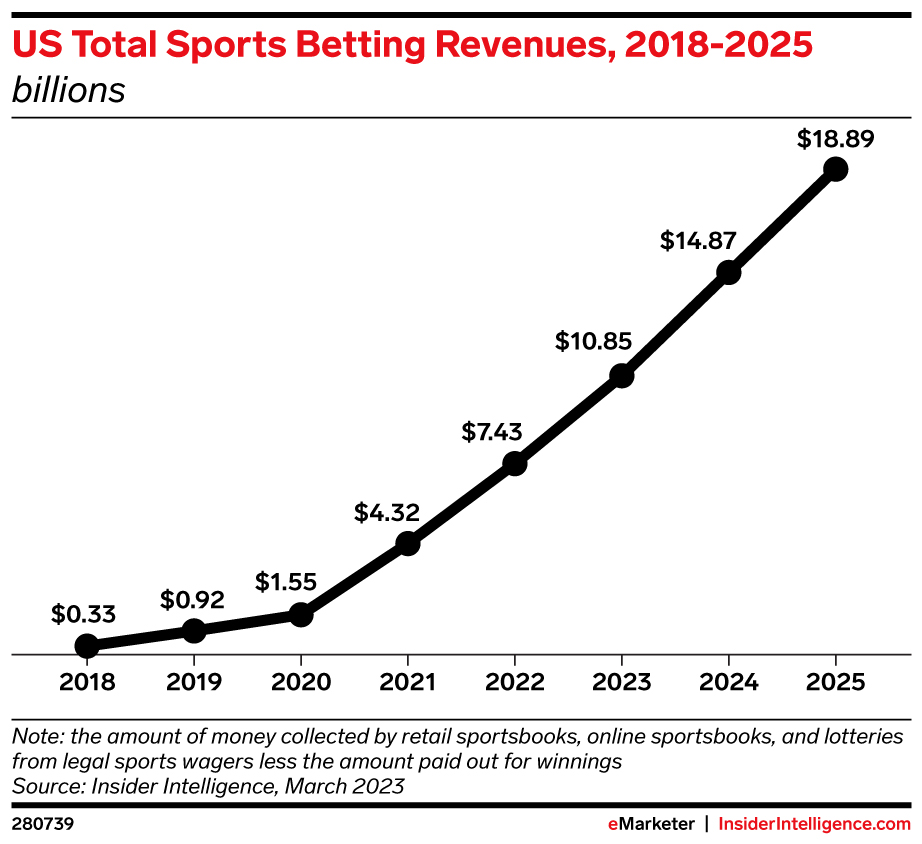 The number of online sports bettors in the US also continues to increase at double-digit rates. This year, it will climb 16.7% to 29.2 million, or 11.0% of the US population. By 2025, there will be 36.9 million online sports bettors in the US.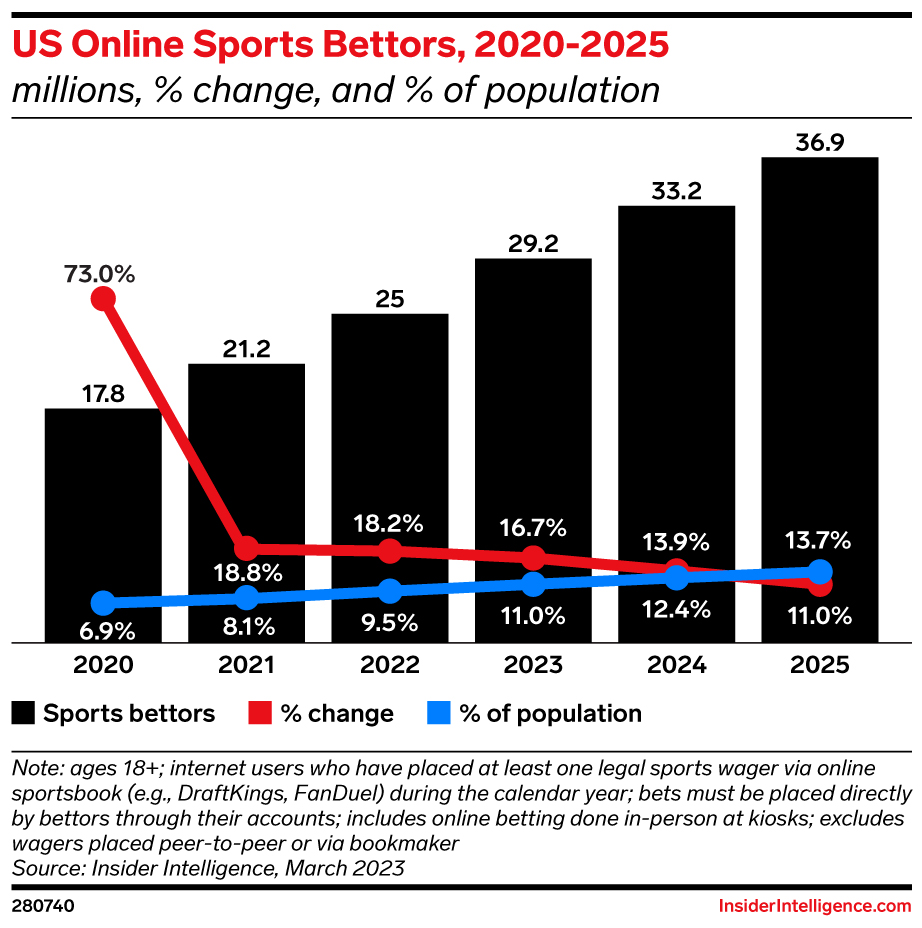 As the number of online sports bettors grows, so too does the amount they wager. In 2023, it will increase 26.9% to an average of $4,400 over the calendar year.** By 2025, the average amount wagered will exceed $6,000.

*the amount of money collected by retail sportsbooks, online sportsbooks, and lotteries from legal sports wagers less the amount paid out for winnings

**the average amount of money wagered per online sports bettor during a calendar year in legal sports bets via online sportsbook during the calendar year; includes wagers placed in-person at kiosks
 
Methodology
Insider Intelligence forecasts and estimates are based on our proprietary analysis, and include both quantitative and qualitative data curated from public companies, government agencies, research and media firms, and interviews with expert executives in relevant fields. We regularly re-evaluate available data to ensure our forecasts reflect the latest business and economic  developments and trends.
 
About Insider Intelligence
Insider Intelligence is a leading research provider focused on digital transformation. We empower professionals with actionable data, insights, and analysis to make informed decisions in a digital world. Formed as a merger of eMarketer and Business Insider Intelligence in 2020, we produce nearly 200 forecasts, 300 reports, 7,000 charts, and 1,500 newsletters across the Advertising, Media, and Marketing; Financial Services; Healthcare; and Retail and Ecommerce industries. Insider Intelligence is a division of Axel Springer S.E.