Early This Week to Endanger Lives, Damage Property and Snarl Travel
AccuWeather meteorologists have highlighted the expected active weather pattern in March for several months, and this week will start with two storms with significant impacts – one on each coast.
AccuWeather Global Weather Center - March 13, 2023 - Perhaps the most impactful nor'easter of the snow season will rapidly develop off the East Coast Monday into Tuesday. The storm may intensify quickly enough to be considered a "bomb cyclone;" these are infamous for producing heavy rain and snow, gusty winds, beach erosion and coastal flooding – all of which will be a concern from this storm. AccuWeather Chief Meteorologist Jon Porter said: "The early-week nor'easter will be especially notable since it is the first such storm of the season bringing widespread significant impacts in a season which has to date been remarkably warm and devoid of snow. Additionally, most nor'easters have a more plentiful supply of cold air in place before the storm arrives – this storm doesn't. As such, especially closer to the coast in New England, there can be unusually sharp variations between significant snow of 6 or more inches and very little snow over a distance of even 20 miles."
* The heaviest snow will fall in the interior Northeast, with some locations receiving over a foot of heavy wet snow, especially the higher terrain of central New York near Albany and western and central Massachusetts into the mountains of northern New England. Especially early on, the snow will be heavy and wet which can weigh down trees, branches and power lines, increasing the concern for power outages; this can be widespread where the heaviest snow falls.
* While the storm will start as rain in Boston, AccuWeather meteorologists forecast the rain to change to heavy wet snow Tuesday afternoon, with 3-6 inches of snow accumulating. The heaviest snow is expected just north and west of Boston where a foot or more can fall along and west of I-495. The snow may fall at a rate of 1-2 inches per hour Tuesday evening into Tuesday night across parts of southern New England, especially eastern Massachusetts, resulting in rapidly deteriorating and dangerous travel conditions.
* Heavy rain is expected in New York City, and it appears it will be a bit too mild for substantial snow. However, AccuWeather meteorologists are forecasting rain changing to wet snow and accumulating a coating to an inch. A small shift in the storm's track can yield higher snow totals, especially on grass.
* Strong winds of 60-70 mph can occur across coastal New England and southeastern Long Island, creating concerns of power outages, coastal flooding and beach erosion especially around the times of high tide.
On the West Coast, as forecast first and most accurately by AccuWeather, major flooding resulted from the atmospheric river focused into California late last week, and tragically at least two lives were lost. Said AccuWeather Chief Meteorologist Jon Porter: "Storm-weary California residents will need to prepare for yet another new atmospheric river. Once again, there is the potential for heavy rain resulting in major flooding, mudslides, road closures, feet of mountain snow and very strong wind gusts from Tuesday into Wednesday. People and businesses are already cleaning up from last week's significant storm, meaning that the latest storm has the potential to become a new disaster upon previous disasters, further compounding impacts and suffering."
* Once again there will be the risk for major, life-threatening flooding, especially in the intermediate elevations between 2,000-5,000 feet, with a combination of a snowmelt and heavy rain. Creeks and streams may rise rapidly, especially in these areas, resulting in a quickly escalating flash flooding emergency. Road and bridge washouts can occur, resulting in road closures and the risk for some communities to become isolated with limited or no access in and out of the area. Some levees may once again be stressed, resulting in damage or even failure that will further escalate flooding risk. The rain and heavy wet snow can significantly increase the avalanche threat in steep terrain.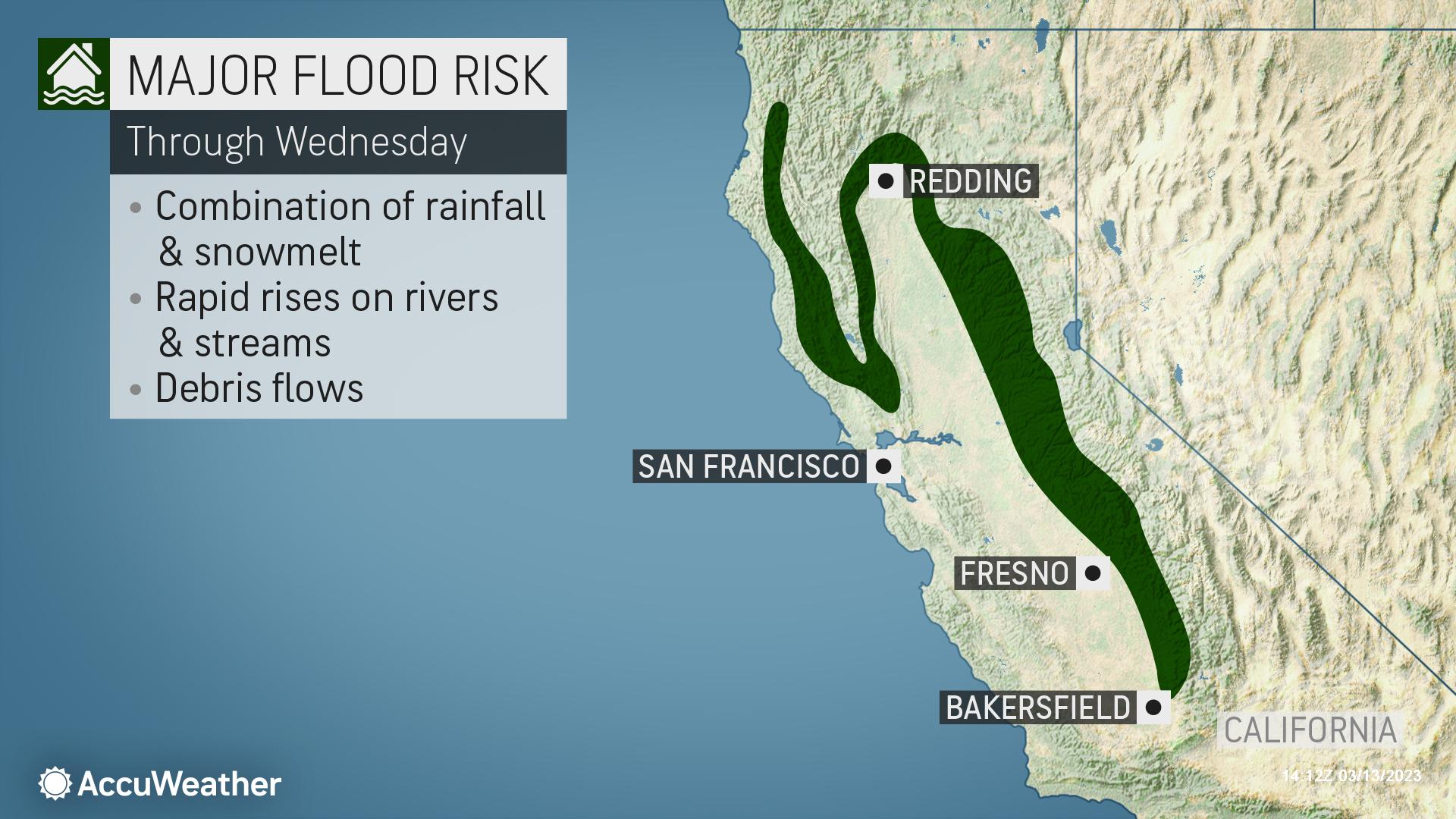 *There can be heavy rain across the Los Angeles Basin as well as San Diego Tuesday night into Wednesday. Many locations can receive 1-2 inches of rain with higher totals north of the Los Angeles Basin. Flooding can result along with travel disruptions.
* In addition to the impacts from rain and snow brought on by the storm, strong wind gusts through Tuesday and Wednesday can lead to power outages and even property damage, especially across Central and Northern California. Areas most at risk for gusty winds will include the coastal areas of Santa Cruz and San Francisco inland to Sacramento and Redding. Trees sitting in saturated ground are more susceptible to falling in even moderate wind gusts.
* While this latest installment in the series of moisture-laden storms this wet season across California will once again bring a variety of life-threatening impacts, the storm will also provide additional drought relief, building on the relief from previous storms. As first forecast by AccuWeather meteorologists, we expect that most or even all of the short-term drought across California can be wiped out by mid-April! This is a staggeringly positive development, especially given the severity of the drought across California as recently as a few months ago. Some longer-term drought impacts including the recharging of deep aquifers can persist despite the major short-term drought turnaround.