Senator Cruz released the following statement on his proposal. 
"I've introduced a constitutional amendment that would limit every senator to two terms and every house member to three terms. I believe we ought to take it up and vote on it. Because if we got career politicians out of Washington in both parties, there would be less corruption of the swamp that is endemic."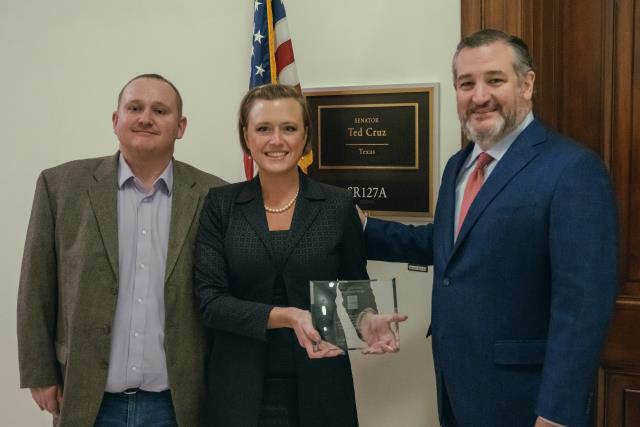 "Speaking of term limits, this week I had the privilege of meeting with the Legislative Director of U.S. Term Limits, Shanna Chamblee. ↑
"Monday, I introduced a trifecta of energy-related bills – The Energy Freedom Act, which would make America energy secure again by accelerating federal permitting for energy projects and pipelines, mandate new onshore and offshore oil and gas lease sales, approve pending liquified natural gas (LNG) export licenses, and generally speeding up solar, wind, and geothermal development."
"This bill won't cost taxpayers a dime, but it will provide the United States billions in revenue in the coming years by expediting permitting, leasing, safe new pipelines, and exports, and providing much needed regulatory certainty. The Energy Freedom Act would put a stop to the Biden administration's sabotage of the American energy industry, and Congress should take it up without delay."
Read the release here.
T"wo additional bills – The Federal Permitting Modernization Act (FAST Act) and The 90-day Review Act – were introduced Monday as well. These bills will streamline and expedite federal permitting for major infrastructure projects by putting in place more stringent timetables for federal agencies and courts to review projects. Read the release here."
"America's infrastructure should be able to be completed in a timely and predictable manner without excessive government red tape and delays. I'm proud to introduce two bills that would loosen the federal government's stranglehold on infrastructure projects and get Americans back to work."
Tuesday, I met with the Transportation Intermediaries Association to speak with truckers about supply chain issues. ↑
"That same day, I introduced seven different bills relating to unlawful or unjust COVID-based restrictions. President Biden has stated that the COVID-19 pandemic is over, but he continues to wield powers granted during the pandemic, and he still wants to impose draconian mandates on the American people. Congress must step up and outright ban these mandates. We cannot allow the unprecedented actions taken by the federal government during the pandemic to set a new normal in which politicians and unelected bureaucrats force mandates upon the American people at the drop of a hat - all under the justification of protecting public health. My bills would ensure that the constitutional rights of Americans are protected and that President Biden cannot change his mind as the political winds blow."

Read about these seven bills in the release here.