RELATED: DOWN THE SHORE
The 3rd Annual Jim Whelan Open Water Festival signature event is the 56th Around The Island® Swim, a 22.75mi/36.6km marathon open water swim in and around Absecon Island, NJ, which is made up of the cities of Atlantic City, Ventnor, Margate, and Longport.
Hosted by Green Whales, Inc., the inaugural Jim Whelan Open Water Festival successfully resurrected the historic and challenging swim for its 54th installment in 2019 in honor of the late Jim Whelan; a former NJ State Senator, Mayor of Atlantic City, member of the Atlantic City Beach Patrol, Atlantic City teacher, and Atlantic City High School Swim Coach. 
Our motto:  "Honoring nostalgia in service to our community."

Through our efforts and the generous support of our sponsors, we continue to accomplish our two main goals:
To increase awareness of "Whelan Whales"--a free swim lesson and water safety program for the children of Atlantic City. 
Honor the historical significance of the Around The Island® Swim to the Absecon Island community and generations of lifeguard families.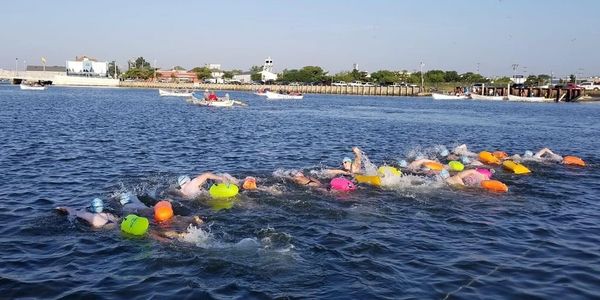 The history of this legendary marathon swim began back in 1953 when two ACBP members, Ed "Dutch" Stetser and Edward Solitare, participated in a $100 bet to see who could circumnavigate Absecon Island first.  It was Solitare who won, completing the grueling course in 13:30, with Stetser only an hour behind him.  Throughout the following half-century, numerous international open water swimming athletes competed in the race, which was eventually called a "world championship ocean marathon."
The Around the Island® current record holder, as documented on marathonswimmers.org, remains Stéphane Gomez, from France, set in 2004 with a time of 6:37.09.   

Unfortunately, conditions during the 55th Around The Island® Swim in August 2021 were not optimal, and the Race Director & Referee made the difficult decision to end the race after nearly 10.5 hours with no finishers.
The 3rd Annual Jim Whelan Open Water Festival will take place August 8-9, 2022, in Atlantic City, NJ.  Please stay tuned for more information including registration dates & requirements, and sponsorship & volunteer opportunities!