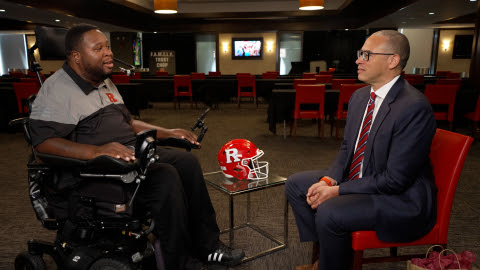 Photo credit: Nick Romanenko/Rutgers University. 
Faces & Voices, a video series that tells the Rutgers University story through the students, faculty, staff and alumni who make it a dynamic place of discovery, premieres on the Big Ten Network (BTN) at 7 p.m. on Sunday, Jan. 30. 
The 30-minute show features a conversation between President Jonathan Holloway and Eric LeGrand, one of the university's most prominent and impactful alumni and the only Rutgers football player to have his number (52) retired.
Since sustaining a spinal cord injury in October 2010, LeGrand has harnessed the national spotlight to give back to the community and inspire others to "bELieve." The two discuss the promise LeGrand made to himself after his injury, the genesis of "bELieve" and his latest entrepreneurial initiative. The show not only allows viewers to learn more about the beloved alumnus and the university's 21st president, but to also gain valuable perspective on how to make a positive difference in our lives and in the lives of others.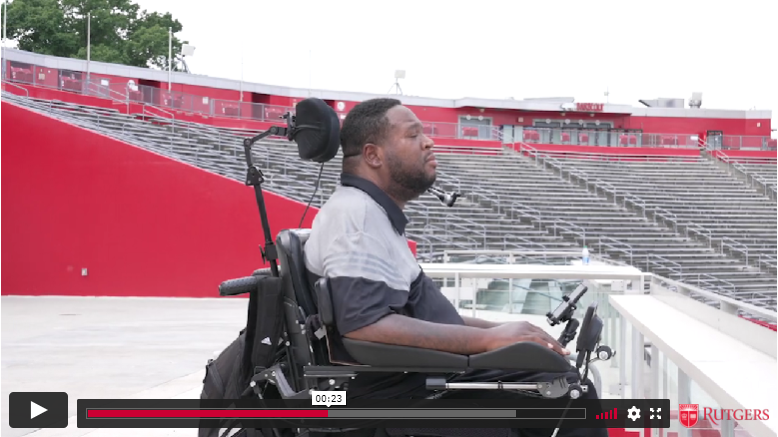 "Faces & Voices of Rutgers" premieres Sunday, Jan. 30, at 7 p.m. on BTN. See the trailer here.
Faces & Voices is a collaborative effort among University Communications and Marketing, Rutgers iTV Studio, Rutgers Communications and Marketing, and the Office of the President – with independent video specialists – to tell the Rutgers story through conversations that illustrate the university's diversity, scope and impact. The series engages members of our beloved community and reminds us that this is what excellence looks like.
"After a year of virtual meetings and isolation, I thought about the best way for me to discover Rutgers University," said Holloway. "I knew it had to start with meeting its family."
Sunday evening's premiere will follow the Rutgers at Ohio State women's gymnastics meet that begins at 5 p.m. on the network. The start time of the episode is dependent upon the meet's length and has the potential to slide accordingly. The show will receive additional airings – aligning with other Rutgers programming – on the BTN schedule.
A joint venture between the Big Ten Conference and Fox Networks, BTN is available in nearly 60 million households across the United States and Canada. The network is carried by all major video distributors and is available through the major streaming providers.
To watch more episodes of Faces & Voices, please visit https://go.rutgers.edu/x3i1621y