A COTA Family is Celebrating One Daughter's Healthy Liver …
Now They Wait to Learn Transplant Timelines for Their Two Youngest Kids 
October 4, 2021 -- October is Liver Awareness Month, which is the month touted by the American Liver Foundation to raise public awareness of the importance of liver health. More than 30 million Americans suffer with some form of liver disease. This October, a Colorado transplant family is celebrating their daughter's now healthy liver and waiting to learn transplant timelines for their two-year-old daughter and nine-month-old son.
The Hawks Family of Severance, Colorado, began its transplant journey 10 years ago this month when their firstborn, Addilyn, was diagnosed with a rare liver disease. Addi was only 10 months old and the news was a devastating blow for two young and healthy parents, Krystin and Aaron. Addi's diagnosis, Progressive Familial Intrahepatic Cholestasis Type 2 (PFIC-2) is a rare genetic disorder that slowly and steadily leads to liver failure.
Krystin remembers hearing the news a decade ago, "Our brand new baby girl's liver was failing. Our only option for her to survive long-term was a liver transplant. It is simply not what first-time parents expect to hear. We were devastated."
Krystin and Aaron learned as much about PFIC-2 as possible in a short amount of time. Eventually Addi's liver would shut down. In the interim they would deal with Addi's liver scarring and the fact her liver was twice the normal size of a child her age. They had to start giving Addi large doses of vitamins that are crucial to growth because her damaged and oversized liver was unable to absorb and process fat-soluble vitamins. Children with PFIC-2 are sometimes diagnosed with liver cancer; therefore, Addi was added to the United Network for Organ Sharing (UNOS) organ transplant registry because her cancer marker skyrocketed. In what Krystin describes as a good news/bad news part of their journey, a liver biopsy showed the infant to be cancer free. While it was definitely a moment of relief both Krystin and Aaron needed, it meant that Addi would be taken off the organ waiting list. Their baby would need to get sicker as she got older before she could be placed back on the list for a new liver.
While Addi's transplant was going to be further down the road than they desired, Krystin and Aaron decided to take the advice from a transplant social worker at Children's Hospital of Colorado and start thinking about the long-term costs associated with an eventual transplant. She recommended they call the Children's Organ Transplant Association (COTA) to learn more about how the organization might be able to help reduce some of the family's stress and anxiety. Krystin called COTA in October 2011 and instantly knew they had to start working with the incredible organization. The family's agreement arrived at COTA's headquarters a few weeks later, and the Hawks family officially became part of the COTA Family.
The Children's Organ Transplant Association (COTA) uniquely understands that parents who care for a child or young adult before, during and after a life-saving transplant have enough to deal with, so COTA's model shifts the responsibility for fundraising to a team of trained volunteers. COTA is a 501(c)3 charity so all contributions to COTA are tax deductible to the fullest extent of the law, and COTA funds are available for a lifetime.
In January 2012, a COTA fundraising specialist travelled to Colorado to train the family's volunteers so fundraising for transplant-related expenses could get underway. The COTA staff member shared information about COTA's fundraising process, fundraising templates, guidance and support, and the no-cost website they would be provided. COTA in honor of Addilyn H was launched; the team of volunteers quickly got to work planning and orchestrating COTA fundraisers.
In April 2017 when Addi was six, she caught a cold and never bounced back. Addi was tested for a few possible viruses, but all of the tests came back normal. Krystin and Aaron were told it was now time to get Addi evaluated for transplant. They were highly encouraged to seek a living liver donor, if at all possible. However, before any living donors could apply, Addi had to be relisted on the UNOS registry to possibly accept a deceased donor's liver. Unfortunately, she was not listed with enough 'points' to get a liver right away so the family had to wait a few more weeks until their physician appealed the decision because of Addi's new cancer diagnosis. Once again, the family was dealing with a good news/bad news situation.
Addi was officially listed for transplant in October 2017.
"The first step in applying to be a living donor is a blood type match," Krystin said. "Neither Aaron or I were blood type matches for Addi. We were distraught. As a mom you want to do everything possible to care for your babies and I felt like such a failure because I could not fix this for our little girl." The good news? All three of Krystin and Aaron's siblings were blood matches. When Aaron's brother got the word he was a match, he applied and decided to undergo evaluation to be his niece's donor. In addition to letting Aaron and Krystin know about his decision, Johnny (a Registered Nurse) told his hospital supervisor about the situation and his need for some time off. She of course agreed to any time he needed to take, and then asked Uncle Johnny if it would be OK for to be evaluated as well.
Krystin points out that Pamela Assid, an Emergency Room nurse who had been practicing for 23 years, had never met Addi or anyone else in the family besides Uncle Johnny. However, she was willing to be tested. It seemed incomprehensible to Krystin and Aaron, but they welcomed her undergoing the long and extensive living donor testing Aaron's brother was also going through.
Unfortunately, Johnny was not a perfect match for Addi; Krystin remembers her heart sinking when she received the news. "Addi was getting sicker and it seemed at every liver appointment we received an increasing amount of bad news," she said. "I started to wonder if Addi would ever get a new liver and her second chance at life."
Just a few days before Thanksgiving 2017, the family was told Pam, a complete stranger at the time, was a perfect match for Addi and they could start moving forward with planning for the living donor transplant. Krystin was filled with an overwhelming sense of peace, hope … and gratitude.
"Within a matter of weeks Pam went from being a stranger to a close family friend and Addi's advocate," Krystin said. "Pam coming into our lives provided light at the end of a dark tunnel we had been travelling through for a very long time." Addilyn received a portion of Pam's liver on January 16, 2018, at Children's Hospital Colorado. January 16th is also Krystin's birthday. "There is no way we can ever thank Pam adequately for the incredible gift she gave to us by saving Addi's life. It is truly the best birthday gift I will ever receive."
Krystin continued, "It is also a gift that we never once had to worry about where the money was going to come from to pay for this expensive transplant surgery. COTA was our saving grace. COTA filled our hearts with hope and reassurance. COTA allowed us to focus solely on Addilyn's recovery. Grateful does not begin to express how we feel about this incredible organization."
During the seven years between Addi being diagnosed and her life-saving liver transplant, the COTA team of volunteers continued organizing fundraising events and promoting the COTA website for online contributions. Since COTA funds can be used to cover living donor costs, Krystin and Aaron were extremely grateful they heeded the advice they were given and called COTA years earlier. The team reached its fundraising goal, which provided incredible peace of mind for the Hawks family that had expanded. While waiting for Addi's transplant, the Hawks family grew by two, Hudson and Ryder. Neither of the boys was born with PFIC-2, which was another blessing for this now family of five. Krystin and Aaron were breathing easier and enjoying their 'new normal' with a healthy Addi at home able to fully play with and enjoy her brothers.
In May 2019, the Hawks family's 'normal' grew by one more when Vivienne was born. Unfortunately, the baby girl started showing similar symptoms as Addi had years earlier so they decided to have her tested. Vivi was diagnosed with PFIC-2 in December 2019. "Our first worry was how we were going to travel this very expensive and emotional road once again; however, we called COTA and our fears were instantly relieved," Krystin and Aaron said. COTA for Addilyn H quickly became COTA for Addi and Vivi, and again, these COTA parents felt a sense of relief and could focus solely on Vivi's journey to better health.
In January 2020, Vivi was enrolled in a drug study targeted at PFIC-2 patients at Colorado Children's Hospital. There are new drugs being tested now, and coming soon, that have the potential to decrease her disease symptoms and possibly delay a liver transplant for quite some time. Both Krystin and Aaron were very hopeful but have just learned that Vivi's transplant team is concerned about her growth and constant itching. They will begin Vivi's transplant evaluation this month and fully expect she will soon be listed for a new liver.
Last December (2020), the Hawks Family grew once again – this time with a little boy named Westley. Krystin said Westley was promptly diagnosed with PFIC-2 almost immediately upon arrival. "Westley is as sweet as he can be and he is our cherry on top!" Krystin said. "Time will tell what Westley's transplant journey will look like."
Today the Hawks Family of seven is 'crazy busy' at all times. The chaos is welcome because it means they are a normal family. Addi is doing great. She just started 6th grade and is rocking it, according to her parents. Addi loves anything to do with unicorns, arts and crafts projects, and video games. Vivienne loves mommy and daddy, loves snuggling and is enamored with the big kids. She loves dancing and singing and just being in the same room with her brothers and sister. Westley is full of smiles and is beloved by his four older siblings.
"COTA has been part of our family fiber for almost a decade. We are so thankful for this organization and how it helps financially, but also for its great big heart. One of the greatest gifts COTA gives is HOPE. Our family of seven could not today be travelling several transplant journeys, with our home intact and bills paid, without this amazing organization. What a huge relief for us to know that when the kids are grown and begin lives of their own, COTA will still be there for them. COTA funds help with transplant-related expenses now … and for a lifetime."
According to Krystin and Aaron, "COTA has been such a blessing for our family in many ways and we are so very thankful for all they do. Even with the uncertainty in our world, it is good to know our family can count on COTA through it all."
For more information about the Children's Organ Transplant Association (COTA),
or to find a COTA family in your area, please email kim@cota.org.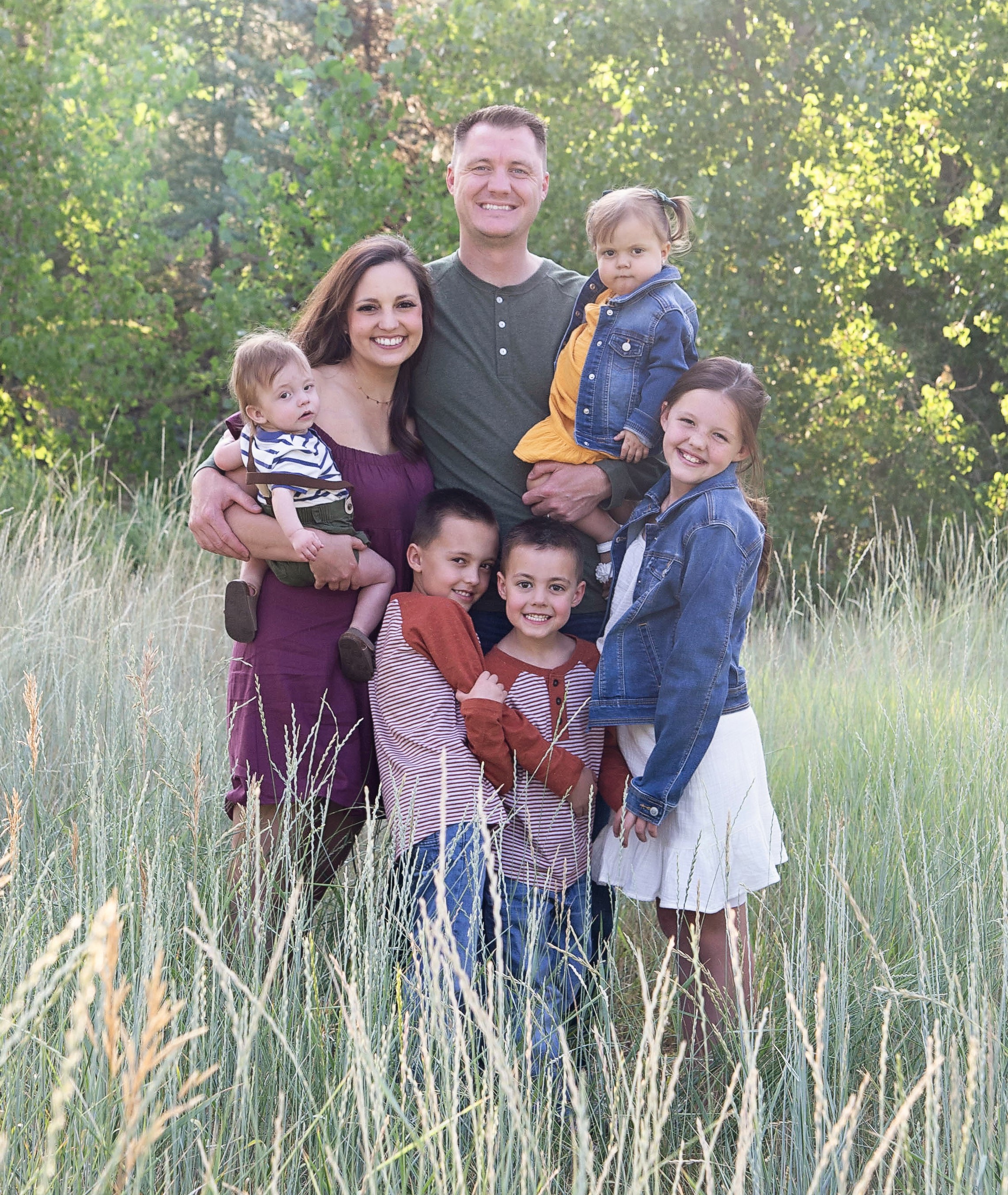 COTA's Hawks Family