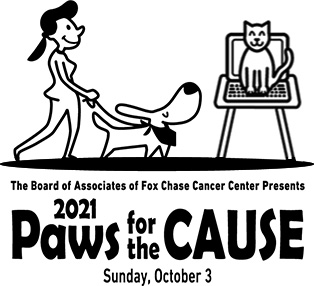 Fox Chase Cancer Center will proudly host the 22nd Annual Paws for the Cause Dog Walk in-person* on Sunday, October 3, 2021 from 9:00 a.m. until noon. Registration is open and available here!

 

It's not too late to join in! Bring your canine companion and join us for a one-mile walk around the Fox Chase campus to raise much-needed funds for cancer research at Fox Chase Cancer Center. Don't miss this amazing event featuring food, music, entertainment for children, raffles, contests and prizes, and more. A variety of vendors and animal rescue organizations will also be on hand.

Those who can't attend in person or other pet owners can participate in this important cause from home through our two-week online component. Learn more on our Paws Facebook event page.

Whether you are walking in person this year or choose to join the festivities from home, show us who inspires you to participate! Print out a Race Bib Sign and wear it at the event, or display it proudly on the Fox Chase Facebook event page, and your own social media channels to share who you are honoring.

Don't wait! Register today!

*Provided circumstances allow.