Proprietors Park,  King Street, Gloucester City, NJ (photo courtesy of South Jersey Adventures)
++++
JACK PYRAH MEMORIAL 5K RUN/WALK
THIRD ANNUAL
This run will honor the legendary Villanova coach and athlete Jack Pyrah. Don your best green running 
gear, Irish pride is encouraged but not required! The course is an approved 5k course.
FEES: $15 Kids under 18 $25 Adults
Packet Pick Up: Friday, September 17, 2021, 4:30 pm- 6:30 pm at the Highland Tavern, 308 Orlando Ave, Gloucester City, NJ 08030 or on race day.
Trophies and prizes to the top three men and women overall, With CASH prizes for 1st, 2nd, and 3rd places both male and female.  

Tickets for JACK PYRAH MEMORIAL 5K RUN/WALK can be booked here.


You may also like the following events from Gloucester City Irish Events:
Also check out other Workshops in Gloucester City, Sports Events in Gloucester City.
Pigs on the Wing live music Jalapenos Every Tuesday
Jalapenos Bar and Grill | Gloucester City
Justin the Performer w/ Greg O'Connell on cajon drum brings interactive live music to Jalapenos every Tuesday at 8pm. Fellow performers encouraged!
Jalapenos Bar and Grill, 314 Jersey ave, Gloucester City, NJ 08030, 
+++++
Gloucester City Irish Society Pipes & Drums "Halfway to St. Patrick's Day" Fundraiser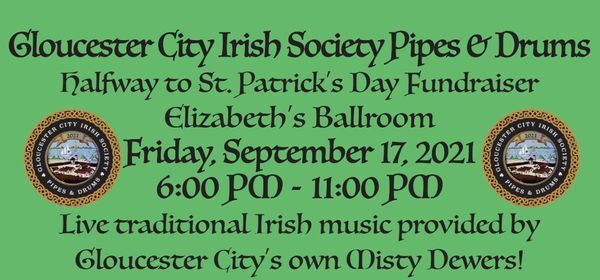 Gloucester City Irish Society Pipes & Drums "Halfway to St. Patrick's Day" Fundraiser

Join us at the Elizabeth Ballroom as the Gloucester City Irish Society Pipes & Drums kicks off "Halfway to St. Patrick's Day" weekend in the Holy City! Music will be provided by the pipe band, as well traditional Irish music from Gloucester City's own "Misty Dewers!" Tickets are $30 and must be presented at the door for entry. Tickets include entry, food, and draft beer. A cash bar will be available for other drinks. You can use the following link to purchase tickets:
https://py.pl/9wDkrvL2P5k
You won't want to miss this! Join us to kick off a great weekend of Irish Celebrations, and support a great cause in the meantime!
+++++
We'll be playing again at the Riverview Arts & Music Festival on September 25th from 5-6! Stop out for crafts, vendors, music, and food!
Where is it happening?
Proprietors Park, 225 S King St, Gloucester City, NJ 08030, Gloucester City
*****
6 Months 'til St. Patrick's Parade - SEPTEMBER 19, 2021, 1:00 PM
Celebrate Irish Culture at Gloucester City's 6th Annual Community Entertainment Event hosted by Celebrity Parade Marshal Bob Kelly, everyone's favorite traffic guy from TV and radio, as well as top entertainment including String Bands, Bagpipes, Irish Dancers, Irish Music, and outstanding Community Organizations.
NJ Irish Society of Gloucester City promises to set the bar high as 2021's first highly-anticipated, outdoor, cultural, and regional, post-pandemic party; warm-up for Wildwood's Irish Weekend with SJ's BEST Parade!
 Learn More: https://www.irishnj.com
Related: 
Gloucester City Irish Parade Photo Album 2018
All Breed Fun Dog Show & Parade 2021

Dress your pup up in a costume or come as you are for the All Breed Dog Show at the South Jersey Pumpkin Show on Sunday, October 10 at noon. Register at the Fairgrounds Office 11 AM to noon. Crowd friendly dogs, 12 winners, and prizes awarded. Entry fee $2 or a can of pet food for local shelters.