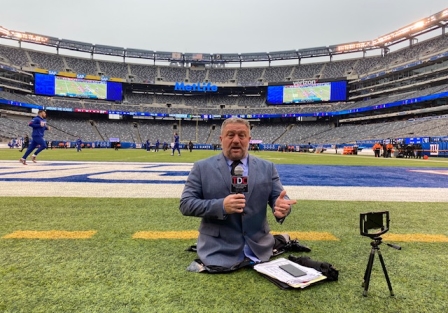 from Runway of Dreams at NYC Fashion Week Event
Being born without legs didn't stop Stevens, a motivational speaker, from trying out for the Dallas Cowboys and playing professional baseball
HARTFORD, CT (August 25, 2021) – Dave Stevens, the first person born without legs to play both college football and professional baseball announced today he will be honored with the Inspirational Achievement Award from Runway of Dreams, a nonprofit organization working towards a future of inclusion, acceptance, and opportunity in the fashion industry. Stevens will receive his award on Thursday, September 9 as a part of Fashion Week in New York City.
Stevens, born in 1966 without legs, overcame his physical disabilities in amazing and incredible ways during an era when there were very few accommodations or programs for disabled students.
Stevens made headlines in 1990 when he tried out for the Dallas Cowboys at the old Texas Stadium. He also played professional baseball with the minor league St. Paul Saints. Today, Stevens serves as an inspirational instructor at camps for limb-different athletes that play football, soccer, baseball, softball, cheer, and tumbling. He also serves as an adjunct professor and director of Ability Media at Quinnipiac University. In addition, he is a highly sought after motivational speaker with previous engagements throughout the country.
While no stranger to being acknowledged for his courageous achievements, Stevens says that this award is special to him.
"I am beyond humbled to accept this prestigious award," said Stevens. "My aim is to inspire people to great things by overcoming challenges of various degrees. When I attend events like this, I am inspired by the stories of bravery and courage that I hear."
Celebrating inclusion, applauding innovation, and highlighting change in the fashion industry, the Runway of Dreams Foundation's fashion show will feature over 50 models with varying disabilities, ethnicities and backgrounds. 

"We are thrilled to present Dave Stevens with this award at our annual Fashion Week Event," said Mindy Scheier, Founder and CEO, Runway of Dreams Foundation.  "The event is truly a celebration of all the progress our industry has made in the adaptive space since our foundation's inception.  Part of that celebration is to honor those individuals who have been trailblazers in the quest for inclusion in all walks of life."
Making this award even more special for Stevens is the fact his close friend and sports agent to some of the brightest stars in professional sports, Leigh Steinberg will present him for his award. Steinberg saw Stevens' story many years ago and was inspired by Stevens' undying will to succeed. Over the years, the two have developed a close friendship.
"It is an honor to present my friend Dave Stevens with this well deserved honor," said Steinberg. "Over the years Dave has shown me what true bravery and courage look like. I am so proud of him and the ways he works to inspire others to achieve great things."
When he reflects on his life, Stevens said it isn't about the awards, but rather its about the inspiration he can help provide.
"For a kid born with a disability, I had to beat the odds and defy stereotypes. This puts the cherry on top of my amazing story and shows that with goals and determination one person can make an impact," said Stevens. "I know I couldn't have gotten here by myself. There are so many people who took me under their wing and supported me. That support means the world to me."
Dave Stevens 2021 Inspirational Achievement Award At-A-Glance:
What: Runway of Dreams, an evening of inspiration and fashion
Who: Mindy Scheier, CEO of Runway of Dreams Foundation, Dave Stevens, recipient of the Inspirational Achievement Award, and sports agent Leigh Steinberg who will present Mr. Stevens for his award.
When: Thursday, September 9th, from 6:30 to 9:30 p.m.
Where: The Glasshouse, 660 12th Avenue, NYC
Why: Recognition of Inspirational Leaders
Dave Stevens Speaks:  To search for rates/ dates to book Dave Stevens click here: www.DaveStevensSpeaks.com  
Attention Reporters, Editors and Show Producers: Dave Stevens is available to be scheduled and booked for interviews. This also includes live interviews on morning shows the day of the event.  To help make coordinating easy and hassle free, please contact publicist Robb Leer at 612.701.0608 or via email info@DaveStevensSpeaks.com .
About Dave Stevens Speaks:  As a legless athlete and motivational speaker, Dave Stevens shares with audience of all ages on topics ranging from diversity, bullying and inclusion to achieving "impossible" dreams. His amazing and uplifting story has taken him around the world, from corporations to colleges, grade schools to arenas.  His message is the philosophy that drives him each day: "You can do anything in life that you put your mind to, despite the odds".  For more information, visit http://davestevensspeaks.com/ or call Dave at 860.690.4877. Today, Dave lives in Connecticut, is an adjunct professor of Ability Media at Quinnipiac University, a brand ambassador for Prostantz https://www.prostantz.us/ works with children through the D3 Day Foundation<http://www.d3day.com> and helps youngsters with disabilities experience the joy of sports. Dave is also a correspondent for The Disability Channel<http://thedisabilitychannel.ca/>.