Walter Reed — just about anyone who hears that name can connect it to the world's largest joint military medical system. Walter Reed National Military Medical Center in Bethesda, Maryland, is the flagship of U.S. military medicine, providing care and services to more than 1 million beneficiaries every year.
It's a lot to live up to, which begs the question — who was the man whose name is attached to such a storied institution? 
Walter Reed was a career doctor before joining the Army in 1874. As the study of germs and infectious diseases flourished, his research into the cause and spread of typhoid and yellow fever massively curtailed the diseases at a time when both were ravaging service members. Thanks to Reed's research, few people in North America now know anything about these diseases. 
The Early Years
Walter Reed was born in Virginia in 1851. As the son of a Methodist minister, he was able to go to private school in Charlottesville, Virginia, before matriculating at the nearby University of Virginia. Reed's talents in medicine came naturally. He finished his two-year medical course in one year and got his degree in 1869 when he was only 17. According to the National Museum of Medicine and Health, he is still the youngest student to ever graduate from the university's medical school.
UVA didn't have a hospital on its campus in those days, so Reed moved on to Bellevue Hospital Medical College in New York, where he earned a second degree. Over the next few years, he interned and worked at various New York hospitals, where he made a name for himself. By 1873, the 22-year-old had been appointed to the Brooklyn Board of Health as one of its five inspectors. 
The next year, he met his wife and told her he was going to give up his civilian career to become an Army surgeon, which offered financial security and the chance to travel. He made good on that promise.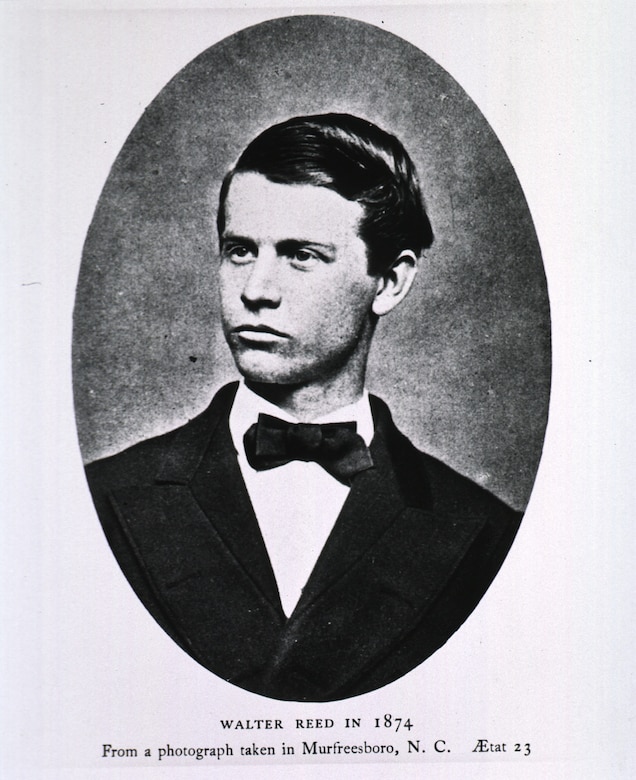 A Military Man 
Reed was commissioned into the Army Medical Corps as a first lieutenant assistant surgeon on June 26, 1875. For several years, he and his wife hopped around military posts across the country. One stop in the early 1880's took them to Fort McHenry in Baltimore, where Reed spent two years of his personal time as a physiology student at Johns Hopkins University.
During the 1880's, medical science into the origins of germs and infectious diseases was flourishing, thanks to Louis Pasteur, Robert Koch and George M. Sternberg, a founder of bacteriology. So, after Baltimore, Reed changed duty stations again, but he ended up back in the city to examine recruits in 1890. He also returned to JHU to study bacteriology and pathology under one of the best doctors in those fields. Reed started doing his own research, too. 
In 1893, Reed was promoted to major and brought to Washington, D.C., by Sternberg, who had been appointed the new Army surgeon general. Reed was named curator of the Army Medical Museum (now the National Museum of Health and Medicine, part of the Armed Forces Institute of Pathology) and professor of clinical microscopy at the newly opened Army Medical School (now the Walter Reed Army Institute of Research). Later, he became a professor of bacteriology at what is now George Washington University.
The next several years produced some of the most important research of Reed's life, especially into the cause and spread of typhoid and yellow fever — both huge health issues for service members.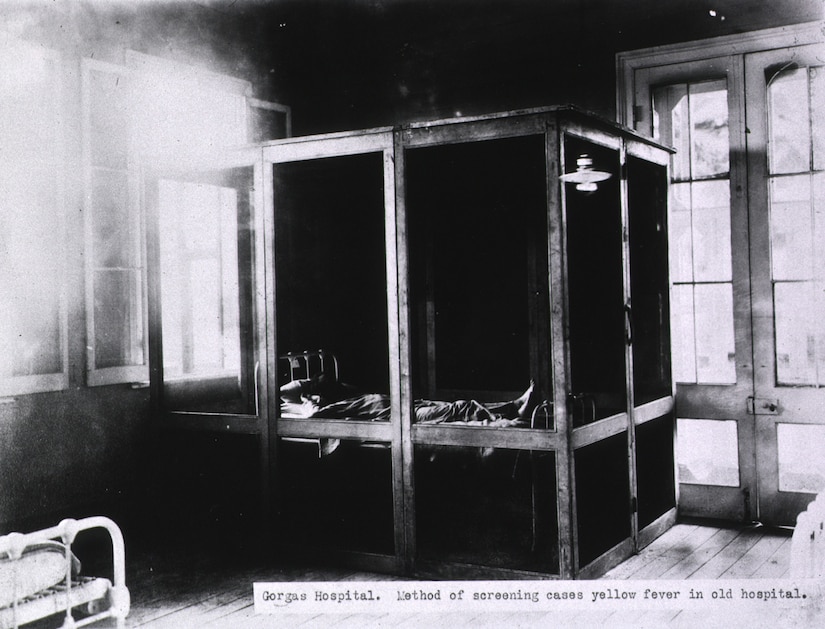 A Military Crisis
In the latter half of the 1800s, typhoid ravaged armies gathering for war. Of the more than 2 million men who served in the Union Army during the Civil War, more than 79,000 typhoid cases and nearly 30,000 typhoid deaths were reported, according to the Rand National Defense Research Institute. The report also stated that of the nearly 107,000 soldiers who fought in the 1898 Spanish-American War, 21,000 contracted typhoid and nearly 1,600 died from it.  
Census data showed that in 1860, about 5.4% of Americans diagnosed with typhoid fever lost their lives to the disease. In comparison, as of Feb. 4, 2021, the World Health Organization put the case fatality rate (the ratio between confirmed deaths and confirmed cases) in the United States for the COVID-19 pandemic at about 1.69%. 
Meanwhile, yellow fever was ravaging southeastern states. It was also rampant in Havana, where troops fought the Spanish-American War in 1898 and remained for a few years as part of an occupation force. According to military medical data, more of these soldiers died from yellow fever and other diseases than in battle.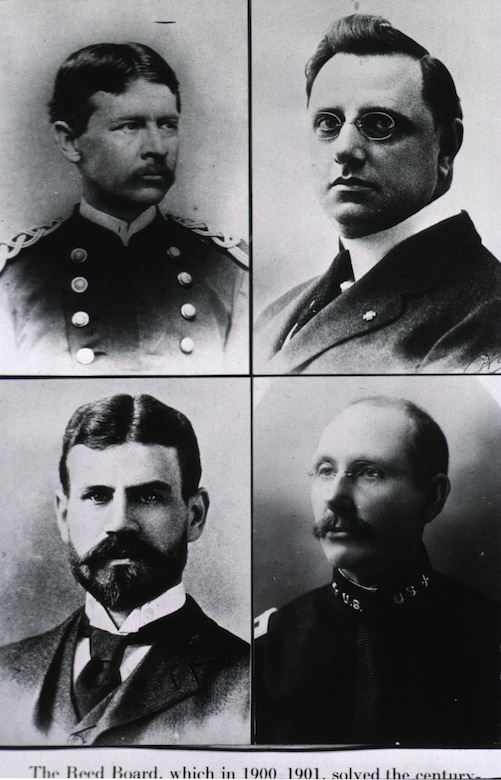 Crucial Discoveries
Reed's military medical experience made him valuable in finding the root cause of these epidemics. 
In the late 1890s, he led investigations at U.S. military encampments that discovered typhoid was mostly spread through poor sanitation and impure drinking water and NOT through noxious air — a theory he debunked. Reed's probes also revealed that better diagnostic techniques, including microscopes, were necessary. 
By 1900, Reed was appointed to head the four-person Yellow Fever Commission to investigate infectious diseases in Cuba. They learned yellow fever didn't come from a particular bacteria, and then worked to identify how it was transmitted. The Army researchers focused their attention on the mosquito, which had been discovered to be behind the transmission of malaria.
Eventually, the team developed its first case of yellow fever in their Cuban lab, which led Reed to determine the mosquito was, indeed, the disease's intermediate host. From there, they opened a nearby camp using American and Spanish volunteers and developed 22 more cases through controlled experiments. None of the volunteers died; the tests proved that mosquitoes carried the disease, and  the agent of the disease itself was carried in the blood they transmitted. 
The study at the camp also marked the first time test subjects signed a consent form — a moment that became a landmark in medical ethics. The researchers said they wanted to be sure their volunteers understood potential hazards.
"Had it not been for Reed's fair and thoroughly scientific approach to the problem and misconceptions concerning the disease … yellow fever might have continued for years," the National Museum of Health and Medicine's profile on Reed states. 
Legacy
Thanks to Reed's team of doctors, the disease — which had ravaged Cuba for 150 years — was eradicated from the island in 150 days. The U.S. and other Caribbean, Central and South American countries were also able to quell yellow fever quickly.  
In 1937, a yellow fever vaccine was developed that was widely distributed among U.S. service members by 1942. There is still no cure for the disease — only vaccinations against it. Yellow fever is still prevalent in jungle areas of Africa and South America. 
Reed's discoveries also helped push along another major project — the building of the Panama Canal. Yellow fever had halted its construction, but thanks to Reed's work, the project was finally finished in 1914. Since then, the canal has been a vital lifeline for deployment of the U.S. Pacific Fleet and commerce across the world. 
In 1945, Reed was elected to the Hall of Fame of Great Americans at New York University. He was the first physician to be honored.
A Fitting Namesake
Reed returned to the U.S. from Cuba early in 1901 and continued teaching bacteriology and pathology. He was awarded honorary degrees from Harvard and the University of Michigan in 1902 and was also appointed the librarian of the Surgeon General's Library that November. 
Unfortunately, his health had begun to decline. Reed died from peritonitis in Washington, D.C., on Nov. 23, 1902, after having surgery for a ruptured appendix. He was buried in Arlington National Cemetery with full military honors. 
Respect for Reed did not dissipate after he died. His friend and colleague, Maj. William Borden, commanded the Army General Hospital and was the driving force behind a new hospital that first opened in 1909. Borden was instrumental in naming it Walter Reed General Hospital in his legendary friend's honor. 
The hospital eventually merged with the Army Medical Center in 1951 and was renamed the Walter Reed Army Medical Center complex. That name remained until the early 2000s when it merged with the nearby National Naval Medical Center under the Base Realignment and Closure Act. 
Walter Reed National Military Medical Center opened its doors in 2011. It sits on the grounds of the former naval medical center and has grown in size and scope since its doors first opened more than a century ago. 
Thank you, Dr. Reed, for your contributions to military medical science!
source  Department of Defense