President Jonathan Holloway announces plaques will be installed at four New Brunswick locations this spring
Rutgers is taking new steps to acknowledge its connection to slavery and racial injustice with the creation of four additional historical markers that tell the story of its early benefactors whose families made their fortunes through the slave economy.
The markers shed new light on some of the most prominent names memorialized on the Rutgers-New Brunswick campus, including the university's first president, Jacob Rusten Hardenbergh, and New Jersey's first governor, William Livingston.
"These markers are an invitation for us to talk about the complicated legacies of namesakes and the complicated ways in which blood money from slavery is woven into old institutions like Rutgers," Rutgers President Jonathan Holloway said at the Board of Governors meeting today. "They are a result of the excellent research shared in the Scarlet and Black volumes that acknowledge our own legacy."
Holloway, Rutgers' first African American president in its 254-year history and a leading Black history scholar, recently published The Cause of Freedom, an examination of Black history starting with the arrival of the first slave ship on the shores of Jamestown in 1619 through the Black Lives Matter movement of today.
The legacy of racial injustice is long and must be addressed by colleges and universities throughout the country including Rutgers, among the oldest land-grant universities in the United States, Holloway said. 
The new historical markers – recommended by the Committee on Enslaved and Disenfranchised Populations in Rutgers History as part of the 2015 Scarlet and Black Project – will contribute to discussions confronting the past while recognizing steps to take to move forward, Holloway said.
The new markers will be at the following locations: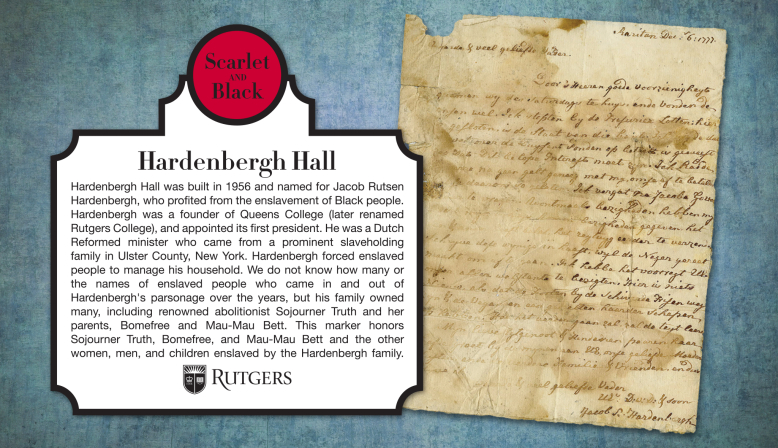 Rendering of marker. Credit: Rutgers University
Hardenbergh Hall, built in 1956 and named for Jacob Rusten Hardenbergh, the founder of Queen's College, later renamed Rutgers College, who was appointed its first president. Research for the Scarlet and Black Project revealed Hardenbergh's family owned abolitionist Sojourner Truth and her parents, Bomefree and Mau-Mau Bett. The Dutch Reformed minister, who came from a prominent slaveholding family in Ulster, New York, forced enslaved people to work in his house.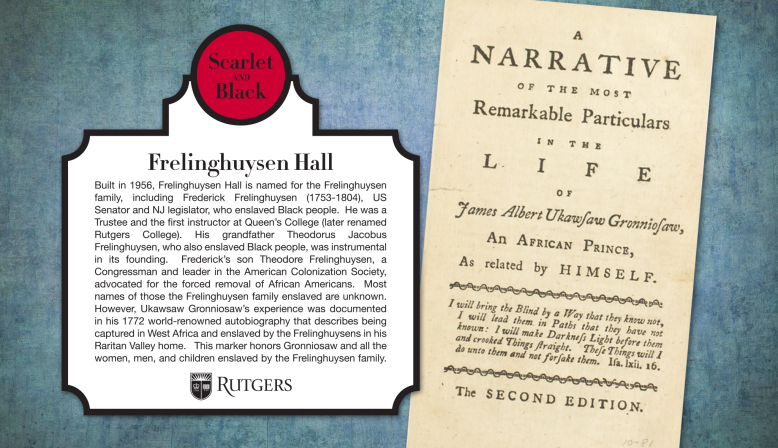 Rendering of marker. Credit: Rutgers University
Frelinghuysen Hall, also built in 1956, was named for the Frelinghuysen family, including Frederick Frelinghuysen, a United States senator and state legislator, who enslaved Black people.  He was a trustee and the first instructor at Queen's College (later renamed Rutgers College). His grandfather, Theodorus Jacobus Frelinghuysen, who also owned slaves, was instrumental in Rutgers' founding. Frederick's son, Theodore Frelinghuysen, a congressman and leader in the American Colonization Society, advocated for the forced removal of African Americans. While most of the names of those the family enslaved are not known, Ukawsaw Gronniosaw, who was captured in West Africa and brought to Raritan Valley, told the story of his bondage in his 1772 world-renowned autobiography.

Rendering of marker. Credit: Rutgers University
Wood Lawn Mansion, built in 1830 for Col. James Neilson, an early trustee who profited from enslaving Black people and whose family funded the estate through inherited wealth created over generations of deep involvement with slavery. The marker honors 13 African Americans enslaved by the Neilson family and the countless others whose names are unknown.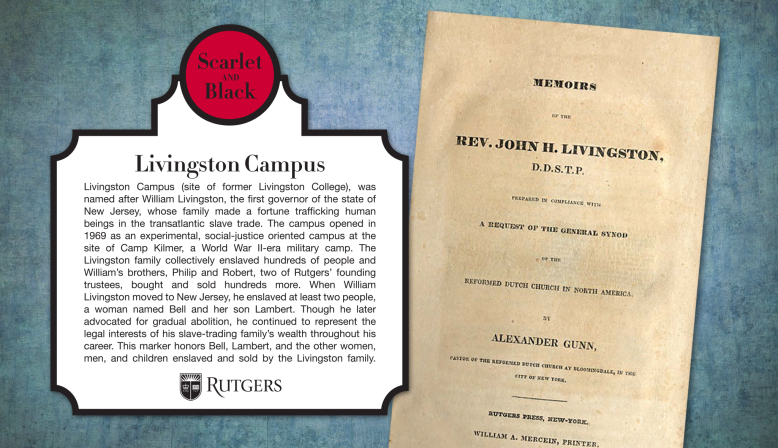 Rendering of marker. Credit: Rutgers University
Livingston Campus, site of the former Livingston College, was named after William Livingston, the first governor of New Jersey whose family made a fortune trafficking human beings in the transatlantic slave trade. The family collectively enslaved hundreds of people and William's brothers, Philip and Robert, two of Rutgers' founding trustees, bought and sold hundreds more. When William Livingston moved to New Jersey, he enslaved at least two people, a woman named Bell and her son Lambert. Though William Livingston later advocated for gradual abolition, he continued to represent the legal interests of his slave-trading family's wealth throughout his career. 
The metal plaques will be erected this spring as part of the ongoing effort to complete Rutgers' historical record. They will join other landmarks that contribute to the university's story, including Will's Way, the walkway from the Old Queens building to the Voorhees Mall, named for an enslaved man who laid the building's foundation in 1808; the Sojourner Truth Apartments, named for the abolitionist who, as a child, was owned by the Hardenbergh family; and the James Dickson Carr Library, named for Rutgers' first African American graduate.
"These markers and the three volumes of Scarlet and Black is not the end of Rutgers recognizing its history," said Deborah Gray White, committee co-chair and a Board of Governors Distinguished Professor of History. "It is a process. This is not something that is a be-all and end-all, but an acknowledgement that African Americans not only contributed to the founding and the building of Rutgers but also a recognition that we have been here all along even though we have been shut out of classrooms."
Frank Wong, assistant vice president of University Planning and Development, is working with White and the Committee on Enslaved and Disenfranchised Populations in Rutgers History on the creation of another eight historical markers, including one acknowledging Colonel Henry Rutgers, the university's namesake who was an early trustee and the son of a slave-owning family. He is remembered for donating the interest on a $5,000 bond in 1826 that put the college on a solid financial footing.
Since 2015, when the committee's Scarlet and Black Project was launched as part of the commemoration of the university's 250th anniversary in 2016, scholars have explored the experiences of two disenfranchised populations at Rutgers: African Americans and Native Americans. Under the direction of White; Maria Fuentes, associate professor of women's and gender studies and history; and Camilla Townsend, Distinguished Professor of History, undergraduate and graduate students carefully pieced together lost stories from the pages of the university's early history. 
White says Volume 3, a historical narrative from 1945-2020, details how Rutgers' Black and Puerto Rican students revolted against the university's admission policies, Eurocentric curriculum, and its primarily white faculty and insisted that Rutgers diversify. This was during the Black campus revolution that swept across the nation in the 1960s and changed the student population, curriculum, faculty and cultural environment to reflect the diversity of American culture.
The release of the last volume due in May arrives during a time when the Black Lives Matter movement is creating a space where people seem to have more of a desire to learn about African American history, she said.
"As the pandemic has given all people more time to think and reflect on the way law enforcement deals with Black lives, books and videos reflecting Black life have increased in consumption," White said. "For New Jersey residents, Rutgers is a local story and what better way to begin to learn about Black lives than waking up to what is happening and has happened in one's own backyard."
###
Rutgers, The State University of New Jersey, is a leading national research university and the state of New Jersey's preeminent, comprehensive public institution of higher education. Established in 1766, the university is the eighth-oldest higher education institution in the United States. More than 71,000 students and 23,600 faculty and staff learn, work and serve the public at Rutgers University-New Brunswick, Rutgers University-Newark, Rutgers University-Camden, and Rutgers Biomedical and Health Sciences.