A few things come to mind about the Deauville Inn restaurant in Strathmere: great food, a warm atmosphere and a remodel that retains the charm and touches of when it was built more than a century ago.
And just in time for the holidays, the team at the Deauville Inn is offering a family-friendly brunch that is bound to be just as fun for adults as it is for children.
A Holiday Brunch on Sundays, Dec. 6, Dec. 13 and Dec. 20, from 11 a.m. to 2 p.m., will feature favorite dishes and family activities. The cost for adults is $22 and $15 for children.
To view the menu click the link: https://seaislenews.com/wp-content/uploads/sites/3/2020/12/Holiday-Brunch.pdf
Staff will be dressed as elves, and Santa Claus may make a sleigh ride to Strathmere to stop by the Deauville for a visit with the children.
Families will be able to join the Christmas elves as they create Christmas cookies, ornaments, holiday crafts and write letters to Santa.
A parting gift for participating in the activities will be some "Reindeer food" to take home for Christmas Eve.
And of course, tasty cookies will be there for the nibbling and hot chocolate for the sipping.
Adults will have an array of entrees to choose from. If someone is feeling the breakfast mood, then the Belgian waffle may just do the trick.
The waffle comes complete with whipped cinnamon butter and Vermont maple syrup.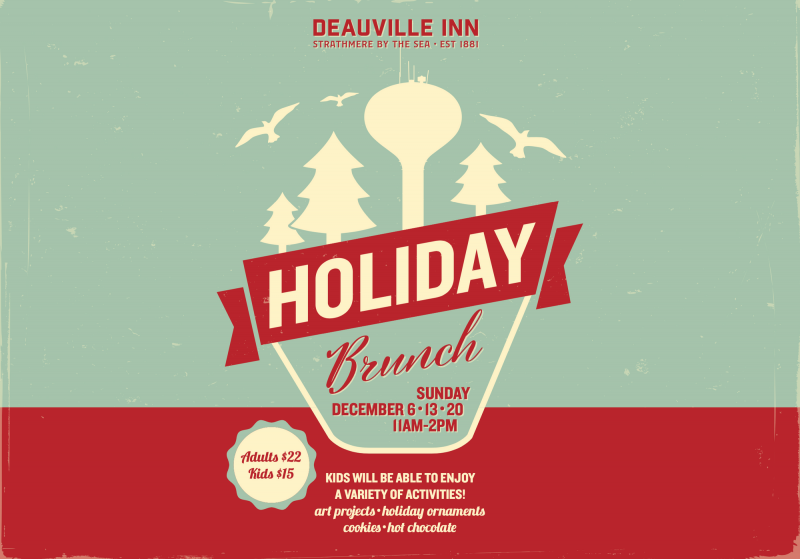 If the customer is leaning toward lunch, then perhaps the avocado turkey melt with pepper jack cheese on an English muffin with smoked paprika aioli and house chips may do the trick.
The Kids Menu also has many possibilities. One traditional and always popular fare is the thick-cut French toast with cinnamon, butter and Vermont syrup.
But if the little customer isn't in the mood for breakfast, a simple but still scrumptious alternative is the cheeseburger with French fries, lettuce and tomato.
For holiday brunches, and all times customers dine at the Deauville, COVID-19 pandemic safety protocols are strictly adhered to.
There is a spacious outside area for people to social distance. New outdoor heaters help keep everyone warm and comfortable.
Inside the restaurant, there are plastic partitions between tables for extra indoor comfort and protection.
All week long, Monday through Friday, from 4 p.m. to 6 p.m., the Deauville offers a host of specials.
Every Tuesday is Taco Night. On weekends, customers can listen to live music while sitting outside next to a heater, relax, eat great food and enjoy the sounds.
The Deauville Inn is located at 201 Willard Road in Strathmere. To reserve a spot for the Holiday Brunch or for questions, call (609) 263-2080 or visit www.deauvilleinn.com