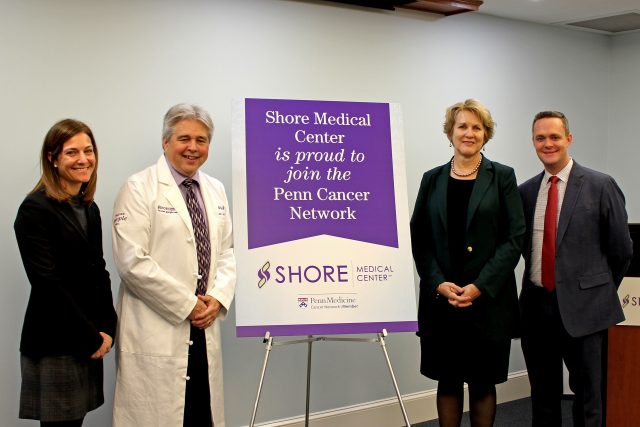 SOMERS POINT NJ--Shore Medical Center in Somers Point and Penn Medicine announced Tuesday that the Shore Cancer Center is now a member of the Penn Cancer Network.
The agreement brings expanded access to the highest quality cancer care for patients across southeast New Jersey, according to a press release.
The Penn Cancer Network is a select group of community hospitals throughout Pennsylvania, New Jersey and Delaware collaborating with Penn Medicine's Abramson Cancer Center to provide excellence in cancer care throughout the region.
Penn's Cancer Network hospitals are recognized for their excellence in patient care and a commitment to improving the health and well-being of their community.
"This is an historic announcement for Shore and our community. On behalf of our Board of Trustees, physicians, clinical and support staff, I want to let those patients who are battling cancer in our community know that we are doing everything we can to help you," Ron Johnson, president and CEO of Shore Medical Center, said in the release. "We joined the Penn Center Network so our patients continue to receive the best possible care close to home, right here in Somers Point."
David Hughes, Shore's chief development officer and chief financial officer, said, "My family has a long history with the Shore Cancer Center. My father in-law Dr. George Mckeon, was an ED doctor at Shore Medical Center and World War II veteran who was wounded storming the beaches of Normandy. He settled in Somers Point with his wife who he met while attending medical school in Ireland."
Hughes continued, "The Cancer Center now sits on the site of our family's former home site and medical practice. I believe in the team at Shore Cancer Center, and we are so proud to have such great partners in Penn Medicine. The partnership with Penn Medicine will help us further our reach into the community, and garner additional support that will have a direct impact on cancer patient care."
Joseph Johnston, director of Oncology Services at Shore Cancer Center, said the Penn Cancer Network offers a host of benefits that amount to a tremendous clinical advantage.
"Our partnership with Penn includes clinical research, community and patient education, disease-specific program development, patient access, professional education for nurses and physicians, and quality and safety," Johnston said.
Robert Vonderheide, director of the Abramson Cancer Center of the University of Pennsylvania, said, "Providing the highest quality cancer care and expanding access for patients across the region – and beyond – is a chief priority of the Penn Cancer Network."