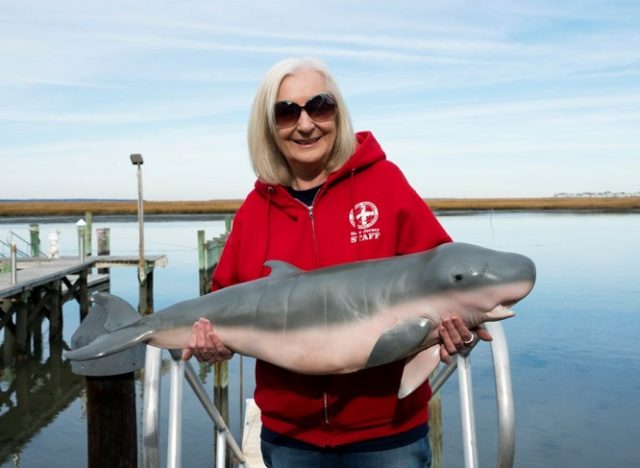 Submitted by STEVE JASIECKI
It was 1994 on Thanksgiving Day when a female pygmy sperm whale ended up stranded on a beach in Longport. Police and volunteers gave up their dinners to watch over the whale until the Marine Mammal Stranding Center arrived. The whale was in very poor condition and wouldn't survive without immediate care. It was transported to the stranding center, a flurry of phone calls were made, and the Coast Guard agreed to airlift the dolphin-sized whale by helicopter to the National Aquarium in Baltimore, Maryland.
When she arrived in Baltimore she was weak, dehydrated and in shock.  There were no obvious signs of any sickness or injuries. She had poor muscle tone and seemed malnourished. Marine veterinarians could not figure out what was wrong and they didn't expect her to live.
Because animals that arrive in her condition usually don't survive, the Marine Animal Rescue coordinator had to decide if the expense of her care was warranted. Veterinarians would observe her for a few days to see if there would be any improvement. Like squid, pygmy sperm whales squirt out an inky substance to elude predators and confuse their prey. Her attendants decided to try to rehabilitate her and she was given the name "Inky."
Over the next several days, Inky remained lethargic. She ate very little and didn't gain any weight. A series of tests including blood work and X-rays were performed but didn't yield any results.  Finally, after three weeks, an endoscopy was performed to see if she had any ulcers or foreign materials in her stomach.
The endoscopy didn't find any ulcers but it did find something else — a mylar balloon, a trash bag and other types of plastic that blocked her digestive tract. Once the items were removed she was able to eat again. Although she started to gain weight, she was still weak from the stranding. She was sluggish and had difficulty swimming.
Like trainers in a gym, aquarium volunteers and staff members would help her exercise. They swam with her in the rehabilitation pool, coaxing her to swim harder, build muscle and gain strength. The goal was to get her strong enough to return her to the ocean.
It took a while, but Inky improved and she started to become more active. Her strength came back and after a while the staff felt that she was ready.
Preparations were made for Inky to be released back to her environment. When the time came, it was a sad but exciting day for all the technicians and volunteers who nursed her back to health. They said their goodbyes as Inky was loaded onto a Navy cargo plane that would fly her to Florida. After landing, she was taken to Marine Land where she needed to spend four more weeks in an outdoor pool to get adjusted to the outside environment.
It had been six months since she was found on the beach and after months of medical attention and rehabilitation, Inky was ready to be set free.
The final leg of her journey to the ocean came when she was loaded onto a NOAA research ship that would release her into the ocean. Inky was fitted with a tracking device and released into the middle of the Gulf Stream where she would be able to find her favorite food, squid. The ship stayed with her to make sure she would be OK while the crew monitored her behavior with the tracking device. She was swimming, making deep dives and feeding well and the crew felt confident that she would survive.
Not long before, Inky was stranded on a beach, starving because of human garbage in her stomach and she was expected to die. Hundreds of people were involved in bringing this helpless whale back to health. After traveling thousands of miles by trucks, helicopter, airplane and finally by ship, this small pygmy whale received a second chance at life.
Inky truly is a Thanksgiving Whale.
Steve Jasiecki is chairman of Sustainable Margate.
source https://somerspoint.com