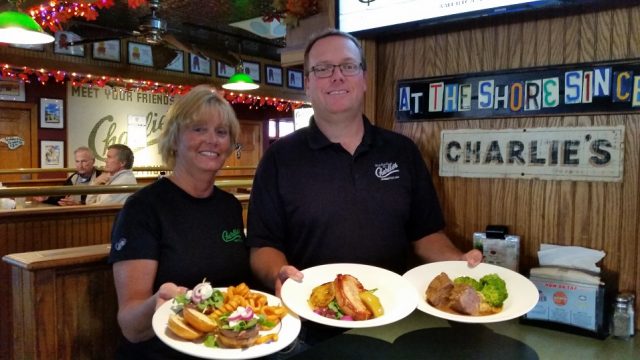 SOMERS POINT NJ --The 10th annual Somers Point Restaurant Week (SPRW) will be held Friday, November 1 through Sunday, November 10 – offering prix fixe menu pricing for lunch and dinner at participating restaurants throughout the city.
Restaurant Week is an opportunity to "Sip and Savor" Somers Point at one of 16 unique and popular eateries at an affordable fixed menu price – three-course dinners for $27.19, and two-course lunches for $12.19.
Participating restaurants include: Anchorage Tavern, Buona Vita, Charlie's Bar & Restaurant, Clancy's by the Bay, Crab Trap, Doc's Place, El Tipico Mexican Taqueria, Fitzpatrick's Deli & Steakhouse, Gregory's Restaurant & Bar, Italian Street Restaurant & Pizza, Josie Kelly's Public House, Marsini's Kitchen, Sal's Coal Fired Pizza, The Grilled Cheese & Crab Cake Co., The OG Original Greek, and The Windjammer.
The Somers Point Restaurant Association will be supporting the Salvation Army of Atlantic City in efforts to expand Thanksgiving dinner services and provide daily meals to those in need this winter.
Here are some new additions to the lineup during Restaurant Week.
"Eat, Dine and Be Social" Contest
While enjoying Restaurant Week for lunch and/or dinner at participating Somers Point Restaurant Week restaurants and Passion Vines, LIKE Somers Point Restaurant Week on Facebook and POST your dining pictures to our Facebook page for a CHANCE TO WIN a $250 Gift Basket. Be sure to include the hashtag #SPRW19 so your post can be found. Participants can enter unlimited times, but must post from different locations for each entry. One winner will be chosen on Friday, November 15.
Town Tastes
Passion Vines in the Somers Point Shopping Center will host a Town Tasting event on Saturday, November 9 from 2-4 p.m. with wine pairings and Restaurant Week appetizers. Seasonal wines will be available for purchase at their store throughout Restaurant Week to bring along to BYOB locations. Tickets are $25 and reservations are required for the event by calling 609-601-8463. Seating is limited.
Jazzing Up Restaurant Week
Somers Point Restaurant Week is partnering with The South Jersey Jazz Society to combine culinary specialties at each location with the Art of Jazz for a unique dining experience. You can follow your favorite Jazz soloists each night as you dine your way through Somers Point.
Here are the performers, locations and times during Restaurant Week:
Friday, November 1
Fitzpatrick's Deli – Behn Gillece: 6-9 p.m.
Gregory's – Rob Budesa: 7-10 p.m.
Saturday, November 2
Anchorage – Behn Gillece: 6:30-9:30 p.m.
The Windjammer – Dave Hartl: 6-9 p.m.
Tuesday, November 5
The Crab Trap – Rich Budesa: 7-10 p.m.
Wednesday, November 6
Marsini's Kitchen – Chris Simonini: 6-9 p.m.
Charlie's – Lou Durham: 6-9 p.m.
Thursday, November 7
El Tipico – Rob Budesa: 6-9 p.m.
Doc's Place – Rick Budesa: 6-9 p.m.
Friday, November 8
Josie Kelly's – Jason Klinke: 6-9 p.m.
Sal's Cafe – Dave Hartl: 6-9 p.m.
Saturday, November 9
Passion Vines – Jason Klinke: 2-4 p.m.
Fitzpatrick's Deli – Jason Klinke: 6-9 p.m.
The presenting sponsor for Restaurant Week is Sysco Food Services. Supporting sponsors include B.F. Mazzeo's Fruit and Produce, D & D Foods, ERCO, Penn Jersey Paper Products, Northern Liberties Food Processors, Republic Bank, South Jersey Industries, Westside Meats, the Somers Point Economic Development Commission, The Somers Point Business Association and The South Jersey Jazz Society.
For a printable version of participating restaurants, addresses, menus, jazz schedule, and reservations, including details on the "Dine Basket" contest, call 609-653-8155 x300 or visit www.SomersPTRestaurantWK.com.
For ongoing updates on these and other events in Somers Point, visit www.visitSomersPoint.com or join the social conversation at Facebook.com/SomersPoint.