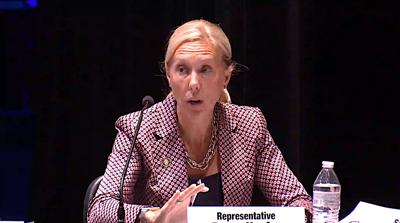 As Sen. Mario Scavello shared a series of vignettes of taxpayers he says were burdened by Pennsylvania's property tax for schools, it was his third story that nearly brought him to tears.
A man named Carl, distraught over the impending foreclosure of his home due to unpaid taxes, drove into his garage, shut the door and started his car.
"He's trying to kill himself," Scavello said. "His next-door neighbor saved his life." 
Scavello was one of several Republicans who support efforts to end property taxes for schools who took part in a panel discussion Tuesday. The longtime lawmaker said he wants something done sooner rather than later.
"Rome is burning, and Nero is fiddling," Scavello told the panel.
Sen. Kristen Phillip-Hill requested the workshop, which was moderated by Sen. David Argall and held at Penn's State's Pullo Center in York in front of a crowd that applauded and booed the panel.
"Many of us here on this stage can agree it is the number one issue that we hear from our constituents about," she said.
Argall is the prime sponsor of Senate Bill 76, which would eliminate the property tax. The revenue would be replaced by an increase in the state's personal income tax from 3.07 percent to 4.95 percent and an increase in the sales and use tax by one percentage point.
Local school districts who need additional funds besides their state allotment would have to get support from the voters in a referendum. The bill is currently in the Senate Finance Committee.
Total elimination of property taxes is not a viable path, nor is it sustainable, said Dr. Tim Shrom, of the Pennsylvania Association of School Business Officials. 
"Many of you in this room will pay more," Shrom said. "You will just pay it in smaller chunks."
Eliminating property taxes would also grant a "free pass" to large businesses who would also get the tax break, Shrom said.
Other bills are being introduced to give taxpayers some relief. State Rep. Frank Ryan is planning to introduce legislation that would tax retirement income with the exception of Social Security benefits.
Rep. Dawn Keefer said she agreed with Scavello, saying "we can't afford to do nothing any longer."
"We do need to give some kind of relief, and we do need to give some kind of security," Keefer said. "Taking someone's property is frankly unconstitutional. I am working in the House on a bill that will not allow government to confiscate someone's primary dwelling for the failure to pay property taxes. They can place a lien, but they can't take your home."
The Legislature is expected to consider the bills when it reconvenes in September.
published here with permission of The Center Square