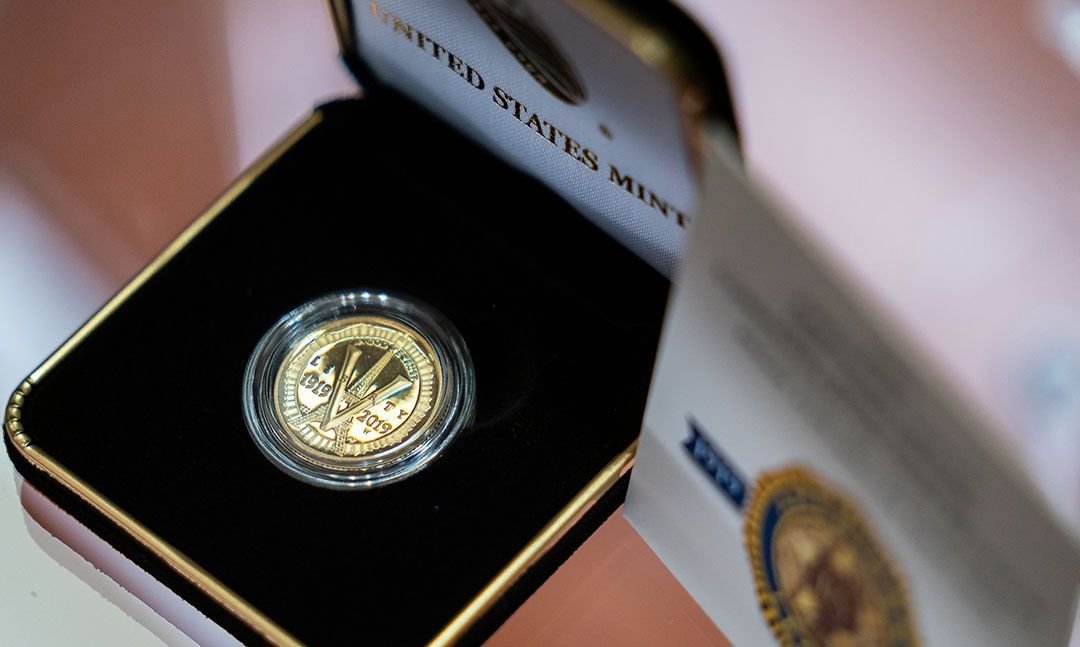 (Gloucestercitynews.net)(July 31, 2019)--American Legion Family members and coin collectors have purchased more than 102,500 American Legion 100th anniversary commemorative coins, according to unaudited numbers from the U.S. Mint, since their release March 14.
Each coin incorporates original designs by members of the Mint's Artistic Infusion program, inspired by The American Legion's history and legacy.
• The silver dollar features the American Legion emblem surrounded by oak leaves and a French fleur-de-lis. On the reverse side are crossed U.S. and American Legion flags beneath an arch from the Arc de Triomphe, in another nod to the Legion's birthplace.
• The $5 gold coin commemorates The American Legion's birth in Paris in 1919, with the Eiffel Tower and a V for victory; they are encircled by the outer edge of the background of the American Legion emblem, representing the rays of the sun. The coin's reverse depicts an eagle in flight, symbolizing honor, valor and bravery.
• In a tribute to the Legion's dedication to 100 percent Americanism and the welfare of youth, the clad half dollar portrays two children, one wearing a parent's or grandparent's American Legion cap, saluting a U.S. flag on the coin's reverse side. The words "I PLEDGE ALLEGIANCE TO THE FLAG …" are on the obverse side, continuing on the back with " … OF THE UNITED STATES OF AMERICA."
To purchase an American Legion commemorative coin or coin set, go to www.legion.org/coin or call 1-800-872-6468.
"The special centennial coins, produced and sold by the U.S. Mint, are a great way to honor our organization's legacy that began March 15-17, 1919," said American Legion National Commander Brett Reistad. "It's an awesome, inspiring and successful legacy — authoring the GI Bill, creating what is today's Department of Veterans Affairs, ushering in the U.S. Flag Code, mentoring millions of youths through various programs, and so much more."
Proceeds from coin sales will help fund American Legion programs that support veterans, servicemembers, their families and the communities in which they live.
The U.S. Mint will have a booth in the Exhibit Hall at the Indiana Convention Center during The American Legion's 101st national convention to sell the Legion's commemoratives coin series.