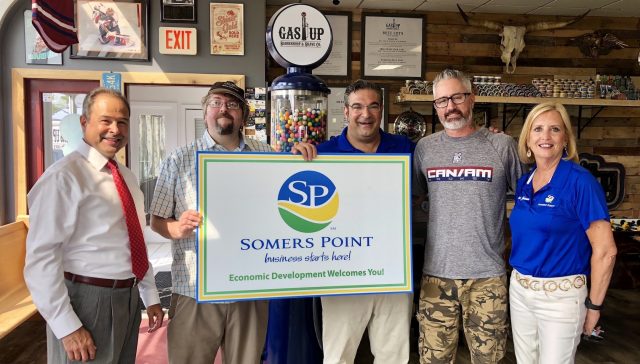 Several new businesses that have recently opened in Somers Point were stops on a welcome tour organized by members of the Somers Point Economic Development Advisory Commission (SPEDAC) and the Somers Point Business Association (SPBA).
The tour was part of an initiative designed to enhance Somers Point's business-friendly community. During each visit, business owners receive a personal welcome visit and sign stating, "Somers Point Economic Development Welcomes You," that they are encouraged to display in front of their business.
This ongoing initiative is just one more way that Somers Point positions itself as a business-friendly community.
"The EDAC, with support of the SPBA, aims to assure that the businesses who have chosen Somers Point as their home, know that they are valued and appreciated as a part of this community," explained Somers Point Economic Development Advisory Commission Chair Greg Sykora.
New businesses visited during the tour included: Gas Up Barbershop & Shave Co., 550 New Road, Goji Smoothies, 520 New Road, Josie Kelly's Public House, 908 Shore Road, Republic Bank, 199 New Road, and Somers Point Brewing Company, 705 W. New York Avenue.
For more information on Somers Point, visit www.somerspointgov.org, visitsomerspoint.com or call 609-927-9088.