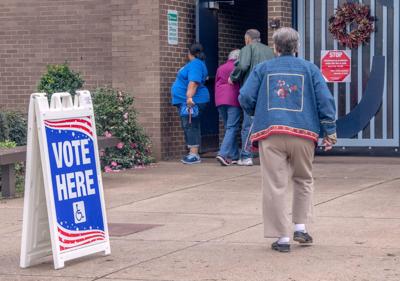 Reforming Pennsylvania's outdated election laws has been talked about for years in Harrisburg but all it ever amounted to was just talk. Supporters of reform had never been able to convince a majority of their fellow lawmakers to go along with their plans.
But this past spring it appeared that some of that talk might finally translate into action as committees in both the House and Senate held hearings on various proposals to update Pennsylvania's election laws.
Optimism was definitely in the air as a group of Pennsylvania lawmakers and election reform supporters held a rally at the Capital Rotunda in early June, touting the proposed changes.
"It's incredibly encouraging that lawmakers in both chambers and on both sides of the aisle continue to engage in meaningful discussions about proposals that would update Pennsylvania's election laws," said Ray Murphy, state coordinator for Keystone Votes, a nonpartisan coalition of 41 organizations working on various voting reforms.
"It is time for voting reform to happen in the Commonwealth of Pennsylvania," said Micah Sims, executive director of Common Cause Pennsylvania.
Among the proposals discussed at the hearings included same day registration, moving up the presidential primary election date, allowing early voting and no-excuse absentee voting, all of which are the law in a number of states.
The most widely discussed proposal was opening up primaries to unaffiliated voters. The change had the backing of state Senate President Pro Tempore Joe Scarnati, R-Jefferson, who maintained that it could help increase participation in the primary process. He added that it could also temper extremism, which takes place in closed primaries.
In a rare turn of events, Rep. Kevin Boyle, D-Philadelphia, the ranking Democrat on the House State Government Committee, agreed with Scarnatti.
"Open primaries would be healthy for this democracy," Boyle said. "The growing trend in American politics is the polarization and it's partially due to us being so influenced by the primary system."
The Senate eventually voted 42-8 to open primaries to the 785,000 unaffiliated voters in the state.
Scarnatti's bill, though, ran into widespread opposition in the House and was quickly shut down. The only measures both chambers were able to agree on were eliminating straight-ticket voting, which hadn't been discussed all that much, extending the deadline for absentee voting, and reducing the number of ballots to be printed.
Gov. Tom Wolf then vetoed the bill, saying the elimination of straight-ticket voting would deprive many voters of an option they had used for years. He added that it would also lead to longer lines at the polls, making it harder for residents to cast their ballots.
Republicans were upset, claiming Wolf's decision was political. They said eliminating straight-ticket voting would have led to a more informed electorate, making voters carefully consider candidates instead of voting only for the party. They added that Pennsylvania is one oof only 12 states still allowing straight-ticket voting.
There's talk about action being taken on election reform in the fall. However, Republicans are bitter about Wolf's veto, claiming it was underhanded. How much they'll want to work with Democrats on this issue remains to be seen. Meanwhile, Republicans themselves appear to be seriously divided on open primaries so that seems like a moot point now.
And don't forget that the abbreviated schedules of both chambers in the fall will make it very difficult to get anything done of major significance. The Senate is scheduled to be in session for only 15 days the rest of the year while the House is slated to be in session 24 days.
But you can be sure, as usual, there will be more talk about election reform. Legislators from both parties will rail on about the need for change in our election laws. Just don't look for it to lead to any action.
published here with permission of   The Center Square