By Maddy Vitale
The Greater Ocean City Theatre Company (OCTC) held its 9th annual Broadway Brunch at the Greate Bay Country Club Sunday in Somers Point Sunday, where students were awarded scholarship money for their artistic talents and a person credited with the program's success was honored.
The event included a gourmet brunch, silent auction, speeches by the scholarship recipients, students who graduated this year and the 2019 Star of the Show recipient, founding board member for the Greater Ocean City Theater Company, Michael Dattilo.
More than 120 people filled the ballroom. In addition to the scholarships, there was a fundraiser and silent auction with proceeds going to the theatre company.
And to end the afternoon affair, the OCTC Show Choir gave two crowd pleasing performances.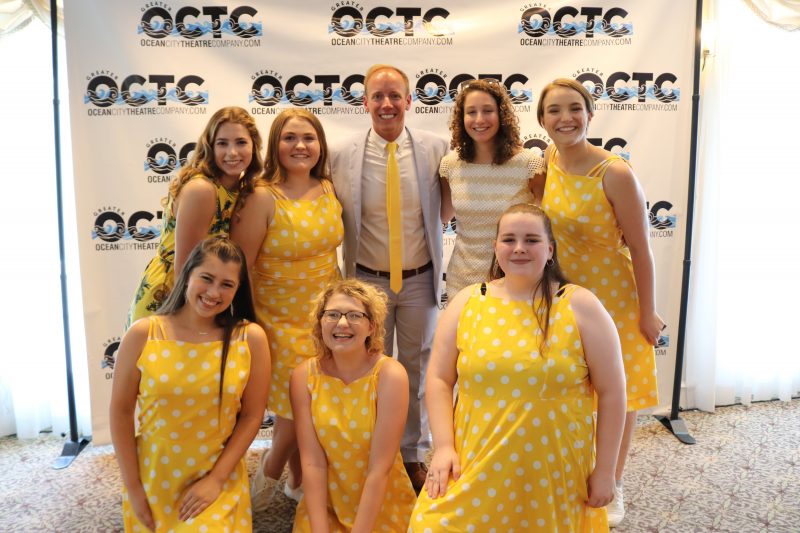 "I am impressed and amazed to know these kids are coming and putting Ocean City on the map," Founding Artistic Director of the OCTC Michael Hartman, who emceed the event, said. "These kids go to great places and do great things."
Hartman remarked about how special each recipient was and how the awards were well deserved for their talents in the theater.
Scholarships were awarded to Nora Faverzani, a graduate of Ocean City High School who will be attending Yale University, Gabrielle Waid, a graduate from Ocean City High School who will be attending Rider University, Lauren Braccili, a graduate from Parkland High School who will be attending Drexel University, Madeline Byrne, a graduate from Cape May County Technical High School who will be attending Manhattan College, Skyler Davis, a graduate from Cape May County Technical High School who will be attending Montclair State University, and Sofia Farrell, a graduate from Mount Saint Joseph Academy who will be attending Manhattan School of Music.
Some of the student's remarks were mixed with humor, others were heartfelt and emotional.
Nora Faverzani had a bit of both in her speech.
She called Hartman her role model who helped her believe in her abilities.
"I'm celebrating the man behind the magic, my mentor, my friend," Nora said of Hartman. "He said to believe in my abilities. For this, I am forever grateful."
Nora also joked that not only her mom told her very frankly that she is not a singer, but Hartman did in his own way too. She is a dancer, she said with a laugh.
Some of the recipients said joining OCTC helped them open up and become a part of something.
That was the case for Gabby Waid.
"Growing up in O.C. I was so shy. OCTC welcomed me with openness. Thank you OCTC for contributing to my future in so many ways," Gabby said. "I will always cherish the lessons and go out into the world confident."
When Dattilo stood up to make his speech about his Star award, he used some humor to break the ice.
He said the last time he was in anything resembling theater, it was in a fifth grade school play of "Oklahoma."
"I did the narration," he said with a smile.
The audience erupted in laughter.
Dattilo, whose wife Julie and daughters Maria and Joey were in the audience, said when he was business administrator for Ocean City, he had to look at what the city was doing for recreational programs. While traditional programs were in place, Hartman wanted to take it a step further.
Hartman is really the reason for the OCTC success, Dattilo said. "There is one star of the show — Michael Hartman — for his vision. Ocean City is very fortunate to have him."
In addition to family and friends of OCTC members, many dignitaries attended the event including Former Ambassador Bill Hughes, City Council members Bob Barr and Keith Hartzell, Ocean City Free Public Library Director Karen Mahar and President of the Library Board of Trustees Jennifer Shirk, along with Beth Bowman, a trustees member of the Ocean City Historical Society.
To learn more about the Greater Ocean City Theatre Company and upcoming professional and educational programming visit www.oceancitytheatrecompany.com