By Maddy Vitale
Boaters, get ready.
The Somers Point City Marina is shaping up and soon visitors and residents can hop in their boats, lounge and take in the beautiful sights, or cruise around the bay and stop in at an eatery or shop along Bay Avenue.
The marina is being built at the end of Higbee Avenue and will include 20 transient boat slips and slips for a tour boat and an emergency vessel.
City Engineer Greg Schneider said everything is going smoothly and soon the docks will be completed.
Schneider said a minor delay with the arrival of the pilings set the project back by two weeks, but despite that, everything is coming together to transform the area into what officials promise will become a gem of Somers Point.
"Now that everything is on site, everything should be built quickly," Schneider explained Friday.
Walters Marine Construction of Ocean View, N.J., is building the marina. It will feature electric, water, and pump-out facilities for transient boaters.
"It is really coming along," Schneider said. "The dock and pier will be done by Memorial Day. All the utilities will be hooked up to the pedestals after that."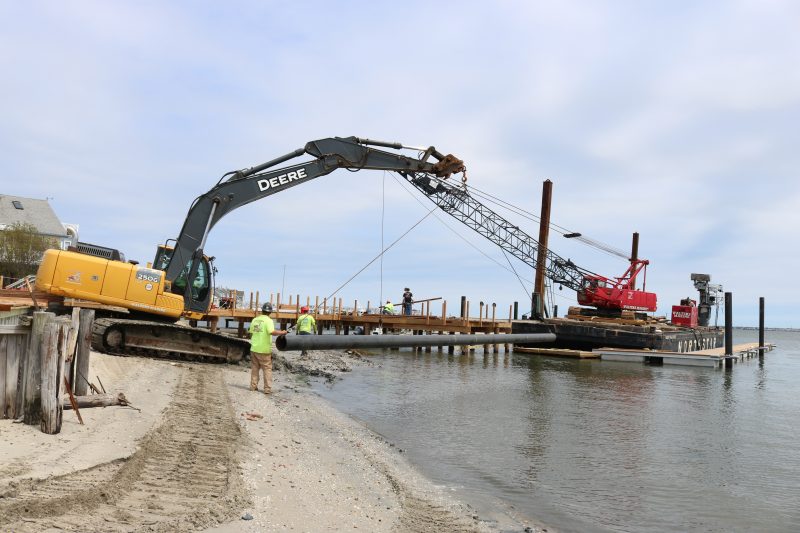 Schneider, who worked with other Somers Point officials to secure grants for the project, said the marina will offer real convenience for boaters. They can stay overnight if they wish, and there are going to be hookups for water and electric and a pump-out for large boats.
"You can pay for the day for the electric and the water hookup, and everything is automated," he said in an April interview.
Greg Sykora, chairman of the Somers Point Economic Development Commission, said last month that the project will enhance the city and create "a mecca, a gathering place for people to make memories."
But the process to secure funding for the marina took several years to obtain, officials said.
And the magnitude of the project required multiple grants.
A $550,000 grant from the National Fish & Wildlife Foundation helped fund the dredging, which was done by Wickberg Marina Contracting, Inc., of Belford, N.J.
A $1.45 million National Boating Infrastructure Grant is being used to build the marina. Rutala Associates, a local planning firm, secured the grants on behalf of the City.
Here is a link to the marina project provided by City Engineer Greg Schneider:
https://somerspoint.com/wp-content/uploads/sites/4/2019/03/Marina-Layout.pdf
For information about Somers Point, visit www.somerspointgov.org
published gloucestercitynews.net | May 16, 2019