For Creative Placemaking Competition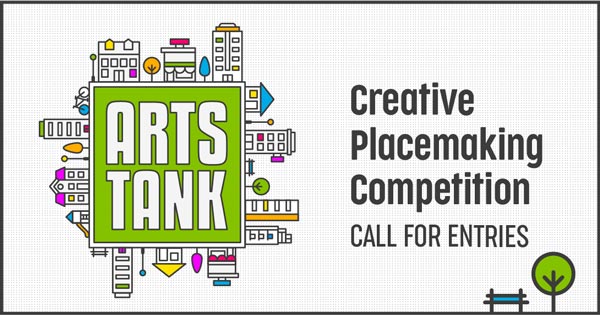 (HAMMONTON, NJ) –  The South Jersey Cultural Alliance (SJCA) is calling for entries in the first ever ArtsTank Creative Placemaking grant competition. Creative placemaking uses arts, history, and culture to engage a community in addressing a local challenge; for example, adding vitality to vacant storefronts or increasing pride and belonging through community murals.  Communities within the eight South Jersey counties are invited to apply for consideration in the ArtsTank Creative Placemaking grant competition - first with a letter of intent by March 8, 2019, followed by a completed application by April 1.
Five finalists will be coached by the National Consortium for Creative Placemaking and pitch their plans to a panel of expert creative placemaker "sharks," who will select the winner in front an audience of artists, cultural leaders, local officials, planners, and economic and community development professionals. Through generous support from the OceanFirst Foundation, the winning municipality will receive $5,000.
"SJCA believes creative placemaking can develop sustainable, prosperous, equitable, inclusive, and resilient places in South Jersey. Creative Placemaking encourages cultural leaders and artists to engage with diverse partners in their communities to plan for a stronger community. This kind of cultural development can ignite revitalization and encourages local investment in culture," says Karen Pinzolo, Executive Director of the SJCA. 
Municipalities, community groups, and locally engaged residents in Atlantic, Burlington, Camden, Cape May, Cumberland, Gloucester, Ocean and Salem counties are encouraged to submit letters of intent to compete in ArtsTank Creative Placemaking competition by March 8 - followed by submission of the online application on or before April 1, 2019. The National Consortium for Creative Placemaking will coach the five finalists selected by a committee of creative placemakers from the region, who will compete for the $5,000 prize made possible through OceanFirst Foundation. The selected project will launch July 1, 2019 through June 30, 2020.
ArtsTank will take place on May 29, 2019 at the Noyes Arts Garage of Stockton University (Noyes Arts Garage: 2200 Fairmount Avenue, Atlantic City) located in downtown Atlantic City as the afternoon portion of a Creative Placemaking Conference – Creative Placemaking: Investing in Your Town sponsored by SJCA, the National Consortium for Creative Placemaking, the New Jersey State Council on the Arts, Stockton University, Atlantic City Arts Foundation. The conference will begin with a session on "How to Finance Creative Placemaking," a networking luncheon, ArtsTank, and a mural tour of Atlantic City.