$4 million initiative benefits wildlife and area residents
CAPE MAY, New Jersey – Dec. 17, 2018 – After conserving more than 7,600 acres of coastal wetlands, Ducks Unlimited and several partners aren't slowing down on protecting bird habitat along the Delaware Bay and Atlantic Coast of New Jersey.
The third phase of the Southeast New Jersey Coastal Initiative, a $4 million effort to protect or enhance an additional 1,772 acres, is rolling along.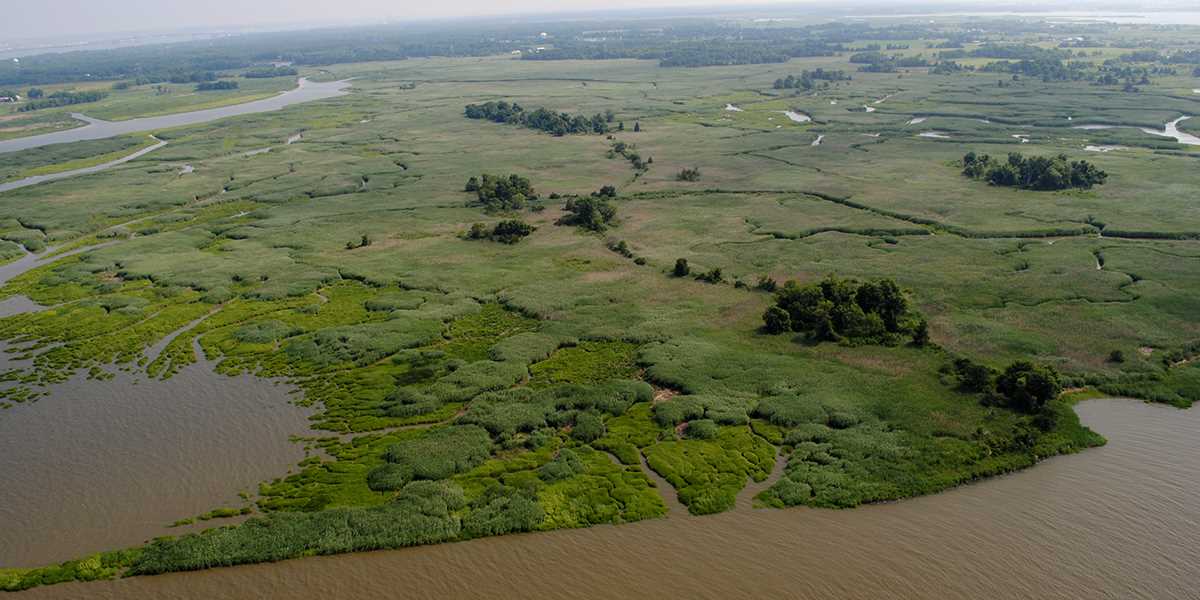 The initiative was established in 2013 to protect, restore and enhance critical coastal wetland habitat. New Jersey's tidal marshes support 60 percent of American Black Ducks and half of the Atlantic Brant wintering populations in the Atlantic Flyway. They also support more than one-third of the regional breeding population for many other species of greatest conservation need.
Jim Feaga, Ducks Unlimited regional biologist in New Jersey, said these coastal habitats are sandwiched by threats on two fronts.
 
"Much of New Jersey is heavily urbanized. It's the most densely populated state and nearly 40 percent of its historic wetlands have been lost," he said.
 
Off shore, rising sea levels mean increased damage to coastal habitats from extreme weather events, which will affect natural resources for generations.
Much of the third phase of the project includes acquiring intact wetlands systems and marsh migration areas, protecting them from future development in Atlantic, Burlington, Cape May, Cumberland, Gloucester and Salem counties.
The wetlands will become part of the National Wildlife Refuge System, State Wildlife Management Areas or various state and nonprofit preserves that will be open to public access. Opportunities for the public include outdoor activities such as hunting, fishing, hiking, bird watching and research.
Several tracts already acquired in the third phase will be added to Supawna Meadows National Wildlife Refuge, various state Wildlife Management Areas and New Jersey Conservation Foundation preserves.
"This project will go a long way in increasing the numbers of hunters and outdoors enthusiasts in southeast New Jersey," Feaga said.
Brian Braudis is refuge manager at Cape May and Supawna Meadows National Wildlife Refuges for the U.S. Fish & Wildlife Service. He said the people go where the birds are, and the Southeast New Jersey Coastal Initiative brings people to these refuges.
"Cape May is a big birding hot spot. Whether you're hunting, hiking or bird watching, everything is centered around birds. The restoration of these habitats will make sure the birds are here."
The project is funded by a $1 million North American Wetlands Conservation Act grant and $3 million in match by Ducks Unlimited, the New Jersey Department of Environmental Protection, The Nature Conservancy, New Jersey Conservation Foundation, New Jersey Natural Lands Trust, New Jersey Waterfowl Stamp Advisory Committee, South Jersey Land and Water Trust and the U.S. Fish and Wildlife Service.
 
---
Ducks Unlimited Inc. is the world's largest nonprofit organization dedicated to conserving North America's continually disappearing waterfowl habitats. Established in 1937, Ducks Unlimited has conserved more than 14 million acres thanks to contributions from more than a million supporters across the continent. Guided by science and dedicated to program efficiency, DU works toward the vision of wetlands sufficient to fill the skies with waterfowl today, tomorrow and forever. For more information on our work, visit www.ducks.org.