| | |
| --- | --- |
| These days, there's a lot of talk about how tough it is to get things done in Washington.  About how Democrats and Republicans just can't seem to come together and make progress on the things the American people care about. It's frustrating. Especially when there is so much work to be done.  |   |
That's why I am exceptionally proud to let you know that Senators from both sides of the aisle – yes, every single one – united behind my bill to create a national firefighter cancer registry so researchers and doctors can study the possible links between the life-saving work they do and increased risks of the deadly disease.   
But, that's not the end of the story. Because in Washington, it's not enough just to pass my bill, I also needed Republicans to join me to provide the federal funding we need to get the national registry off the ground and running.  
And this week, we did it. The Senate voted – unanimously – to approve $1 million in start-up funding.  
I've always believed that when we focus on what unites us, when we put the politics of division aside, we can create positive change for the people we serve.  I've also always believed that when the fight is right, we must never – ever – give up.  When it comes to protecting our firefighters, I never will.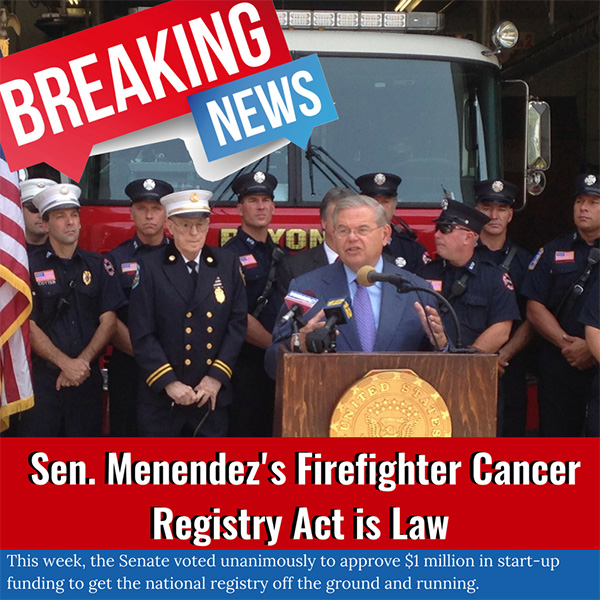 Thank you for all you do to make New Jersey a great place to live, work and raise a family. 


Senator Bob Menendez