For anyone who has struggled with a chronic condition like high blood pressure or depression – or had a loved one diagnosed with cancer or Parkinson's – you know affording your prescription drugs feels like, not just a matter of health – but a matter of wealth.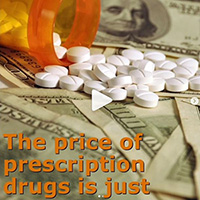 Watch to learn how my CREATES Act would help bring more generics to the market. 
John and Barbara from Randolph know this all too well.  To afford the $1,600 a month for his Parkinson's medication, they were forced into bankruptcy and foreclosure.  Bill and Teri from Mountainside, NJ, spend $18,000 a month on the medications Bill needs to fight lung cancer.  And Kelli from Park Ridge, NJ has a son with hemophilia whose medication – that he will need for the rest of his life – is a staggering $60,000 a month.   
Just about everyone knows people like John and Barbara, or understands personally what it's like for Bill and Teri.  Or can imagine the fear Kelli faces every day worrying about her son.
 
Jeffrey Graciano, a Pharmacist in Weehawken, works with doctors and insurance companies every day to help his customers get their life-saving prescriptions, but even then, he told me, "they still cost thousands of dollars a month."
 
This cannot keep happening in the greatest nation in the world.
 
And it's pretty clear — especially after the Trump corporate tax cuts — that drug companies can afford to lower costs, but that doesn't mean that they'll do the right thing.
 
I believe we can do something in Washington to help lower the skyrocketing costs of prescription drugs. Here is just some of what I've been working on:
| | |
| --- | --- |
| Cap how much patients pay for their medication - That's right, I believe there should be a limit on your out-of-pocket costs for life-saving medication. That's why I support the Capping Prescription Costs Act, which caps drug copays at $250 a month for individuals. No American should have to spend their life savings just so they can go on living. It's as simple as that. | After talking with NJans struggling with skyrocketing prescription drug costs, I described a few solutions I'm working on in the short term to tackle the problem. Listen. |
Bring Cheaper Generics to Market – Some big drug companies play fast and loose with the rules to keep more affordable generics off the market. I introduced the CREATES Act to crack down on companies that put profits over patients and put up illegal roadblocks to cheaper versions of their drugs. Watch my video on how this works.


  

Hold Drug Companies Accountable for Price Gouging –The SPIKE Act would force pharmaceutical companies who jack up prices on life-saving drugs to disclose their reasons why to the public.  


  

Stop Insurance Companies from Hiding Lower Cost Drug Options – This one made me the most upset when I found out about it. Health insurance companies often use gag clauses to ban your pharmacist from telling you if it's  cheaper to pay out of pocket than to use your insurance! I've cosponsored the Patient Right to Know Drug Prices Act and the Know the Lowest Price Act of 2018 to stop this.    
In the richest country on earth, no family should be faced with bankruptcy to afford the cost of prescription drugs.  No patient should be forced to choose between the medication they need and the home they live in.  And no mother should worry their child may never have the resources s/he needs to live a long life, independently.     
That's the kind of country I'm fighting for.


Senator Bob Menendez