CNBNews graphics file
This may surprise you, but Trump's tweets don't make my jaw drop anymore. His ramblings about beautiful buildings, and misrepresentations of history no longer come as a shock. What continues to make my heart jump a beat, and scare me to my core is his administration's relentless effort to take away healthcare and jack up your premiums.
 
Today, add another one to the list. It may sound innocuous that Trump's Justice Department has declared the Affordable Care Act unconstitutional and will now refuse to defend it in court, but it's actually, as Joe Biden would say, a BFD.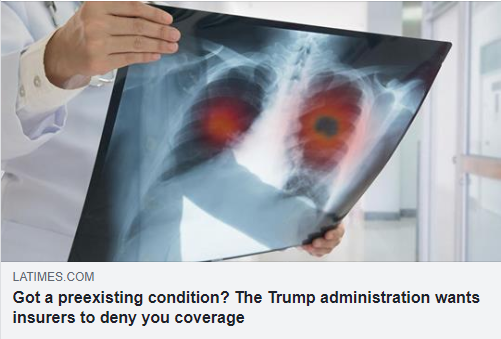 Simply put: refusing to defend the law is a refusal to defend millions of Americans with preexisting conditions – people with diabetes or heart disease; vulnerable children born with serious diseases and disabilities; and even pregnant women.
 
In a remarkable move, the Trump Administration is actively advocating that "the court must throw out the ACA's two main protections for people with preexisting conditions: the requirements that insurers accept all applicants ("guaranteed issue") and that they charge people with preexisting conditions no more than healthy people in the region ("community rating")."
 
There is still so much to fix in our healthcare system. The Trump Administration could have targeted soaring prescription drugs costs (as I have in this series of bills), expanding coverage, or tried to stabilize the insurance markets. But instead they want to stop millions of Americans with preexisting conditions from getting health coverage without being charged higher premiums. 
 
That is despicable and wrong. Stand with me to defend the most vulnerable. Share this news and spread the word. You rose up and stopped this before, and I have faith you can do it again. 
 
Sincerely,


Senator Bob Menendez