Note: Three-part series 
Reviews by Jen | Special to CNBNewsnet
(APRIL 24, 2017)Maryland is a great state to visit. There's a wide mix of things to do here. The state is rich in American Revolutionary and Civil War history. It's right on the Chesapeake Bay and has maritime roots. Plus, there's parks, rivers, and even part of the Appalachian Trail here. Add the art, brews, and amazing food and you have a great all inclusive destination.
1. Berlin (Berlin)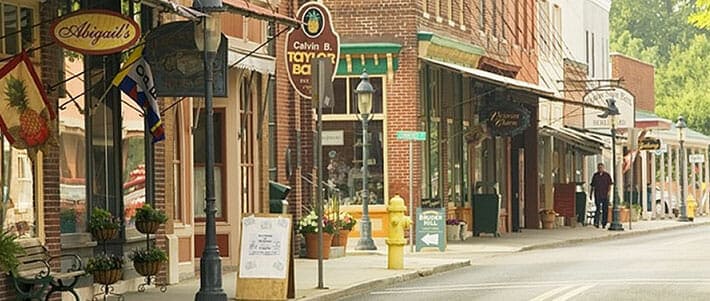 Berlin was named the Coolest Small Town in America in 2014 and once you visit, you'll understand why. It's downtown area is a registered historic district and regularly host events for the whole community. There are fireworks, farmer's markets, and even bathtub races. Stop by spend an afternoon seeing what makes this place so cool.
2. Clear Meadow Farm (White Hall)
Clear Meadow Farm is a family farm that's been operating for more than 70 years. They offer a lot of products for sale: angus beef, hay, straw, corn, and barley but what they're really known for is the view of their sunflowers fields in the summer. Stop by for an hour or two when the flowers are in bloom for one of the most beautiful views in the state.
3. Port Discovery (Baltimore)
Port Discovery is Baltimore's children's museum and it gives kids an opportunity to climb, kick, crawl, learn, run a diner, and get wet. This is a great places for families with kids of all ages. Allow 2-3 hours here to see all the exhibits.
4. Frontier Town Campground (Berlin)
This is a campground right outside of Ocean City that is an attraction in and of itself. Frontier Town has a waterpark, complete with a lazy river and waterslides, mini golf, a zip line course, and an amusement park. You could spend a weekend here and skip the beach.
5. Fractured Prune (Various)
The Fractured Prune is a doughnut shop chain across Maryland, the most popular location being on the Ocean City Boardwalk. They make some of the most unique doughnuts you'll ever find. They offer nineteen glazes covering everything from banana to marshmallow and thirteen toppings, including cookie crumbs and crumbled bacon. Stop by for breakfast or a sweet treat.
6. Antietam National Battlefield (Sharpsburg)
The Battle of Antietam was a major battle in the Civil War, the one that ended the Confederate Army's invasion of the north and led to Lincoln issuing the Emancipation Proclamation. 23,000 soldiers were killed in this 12 hours battle, one of the bloodiest in the country's history. Stop by the visitor's center, National Cemetery, and the Pry House Field Hospital. Spend 3-4 hours here learning about this history shaping battle.
7. Sugarloaf Mountain (Dickerson)
Over 14 million years, Sugarloaf Mountain developed from the surrounding soil eroding away. A long hike through the oaks will bring deer, rabbit, and fox sightings as well as owl, turkey, and hawks. It's elevation is only around 800 feet and it has ties to the Civil War. This is truly an interesting sight.
8. Rock State Park (Jarrettsville)
This park features 855 acres of a rocky forest that has three picnic areas, access to Deer Creek for fishing, tubing, and wading. If you're a climber, make sure you make it to the King and Queen seat, an outcrop of rocks that has an amazing view. This park gets pretty packed in the summer, so show up early and spend the morning here.
9. Geppi's Entertainment Museum (Baltimore)
Geppi's is a museum dedicated to pop culture. It has rooms dedicated to Baltimore's heroes, old newspaper comic book characters, post-war television stars, and multimedia's globalization. They also have special educational programs for school trips. Stop by and spend 2-3 hours here.
10. Decoy Museum/Ward Museum (Salisbury)
This museum specializes in wildfowl art and the art of decoy carvers Art and Lem Ward. Located on Schumaker Pond, you'll find living classrooms and hiking trails while inside, two galleries show decoys hand carved by the Ward brothers and unique are and children's programs. Spend 2-3 hours at this unique museum.
11. Baltimore Museum of Art (Baltimore)
The Baltimore Museum of Art was founded in 1914 with one painting and now has more than 95,000 pieces, including around a thousand pieces by Matisse. It's collection has a variety of art, including 19th century, modern, and contemporary art. There's paintings, sculptures, and decorative arts form various cultures, from China to Africa. Spend 2-3 hours here and see all they have to offer.
12. Sotterley Plantation (Hollywood)
Built on the Patuxent River, the Sotterley Plantation features nearly 95 acres of meadows, gardens, and river shoreline. This is the only plantation that is still open in the state and offers a lot of activities and educational programs. Spend 2-3 hours here exploring the restored Slave Cabin, gardens, and outbuildings in the surrounding fields.
13. Krumpe's Do-nuts (Hagerstown)
This is a family owned doughnut shop whose roots go all the way back to a German immigrant who came to the United States before WWII. They make a variety of delicious options that are more classic than some of the trendy shops popping up – eclairs, glazed, powdered, and cream filled to name a few. Stop by for a sweet treat.
14. Ego Alley (Annapolis)
Ego Alley is actually the city dock of Annapolis and a great place to take a walk, do some shopping, and have a great meal while being right along the water and ship watching. There's often free musical performances from local bands. This is a great location, right in the center of the city and a great place to spend an hour or so walking around at the beginning or end of your day in Annapolis,
15. Chesapeake and Ohio Canal National Historical Park (Various)
The canal here operated for over 100 years, carrying goods and resources down the Potomac and to market. Now, all 184.5 miles of the park offer a wide array of things to do, from hiking, biking, boating, fishing, and horseback riding in the warm months and ice fishing and cross country skiing when it gets cold. Come and spend the day here and be sure to take a ride on one of their canal boat tours.
16. Maryland Science Center (Baltimore)

The idea for the Maryland Science Center started in 1797 when it was just a society of scientists and expanded to the facility it is today. They have a wide variety of exhibits, including opportunities to learn about cells, dinosaurs, energy, and outer space. Bring the kids and spend about 3 hours here.
17. Salisbury Zoo (Salisbury)
The Salisbury Zoo has a wide variety of animals, from tropical birds and birds of prey to to river otters, red wolves, and buffalo. They offer educational tours and chances to get up close and personal with some of the animals. Come and spend half a day here spending time with all the animals.
18. Calvert Cliffs State Park (Lusby)
Calvert Cliffs State Park is a great place to spend a day if you love the outdoors. You can hang out on the beach, go fossil hunting, take the kids to the recycled tire playground, fish, explore the marshland, or take a long hike on the 13 miles of trails. The exposed cliffs were once covered by the sea and are now a rich source of shark, whale, and seabird fossils.
19. The Horse You Came in On Saloon (Fell's Point)
This saloon was established in 1775 and touts itself as the oldest one in America. This was Poe's last stop before his mysterious death and is the only bar in Maryland that existed before, during, and after prohibition. Today, the have a menu featuring appetizer, burgers, and great beers and offer live music. Stop in this historic institution and have dinner and some cold brews.
20. Swallow Falls State Park (Oakland)
Swallow Falls State Park has hiking, fishing, and camping tucked into one of the most beautiful areas in the state. Muddy Creek Falls is a 53 foot waterfall that sits among rock gorges, tall trees, and a hiking trail. Come and spend the day or the weekend here.
21. Baltimore Museum of Industry (Baltimore)
If you want to learn about Baltimore's industrial history and how it's innovating into the future, this is a great place to visit. Here, you'll find exhibits of industrial spaces like a cannery, garment loft, and a print shop. This is a great hands on place for the kids. Stop by and spend 2-3 hours here learning about the history of this great city.
22. Piscataway National Park (Accokeek)
This park exists as an easement to keep the view from Mt Vernon and is home to many different animal species, including bald eagles, foxes, ospreys, and deer. There's a fishing pier and two large boardwalks that take you over freshwater wetlands. There's also a variety of trails, meadows, and woodlands to explore. And make sure you stop by the National Colonial Farm. You could spend a whole day exploring here.
23. Milkhouse Brewery (Mount Airy)
This is Maryland's first brewing farm and the owners actually helped get the Farm Brewery law enacted. A tasting room soon followed and they serve five year round beers as well as some seasonals. They use the hops grown right on their farm as well as other other homegrown and local ingredients to make brews like Red Eye Porter, Coppermine Creek Dry Stout, and Stairway IPA. Stop by the tasting room and spend an evening sampling their brews.
24. Carroll County Farm Museum (Westminster)
Opened in 1966, the Carroll County Farm Museum that exhibits life at it was in the 1880s. Here you can attend teas, see old farm equipment, as well as see how spinning, weaving, tinsmithing, broom making, and more were once a part of everyday life. Spend 2-3 hours here learning about the past on this beautiful farm.
25. Clyde's Tower Oaks Lodge (Rockville)
This restaurant is one of a kind and stunningly beautiful. The 200 year old two story barn has a huge stone fireplace at each end of it's Great Room. There's several other rooms in the establishment, including the Saranac Room with skylights, birch bark canoe and a Native American weathervane and the Tack Room with large, comfortable booths. Come for a meal and have something delicious in this amazing space.
26. Cabin John National Park (Rockville)
Cabin John National Park is a great place to spend a day outdoors or a weekend away. With four miles of hiking trails and two miles of hard surface trails for bike riding, a large athletic area, an ice rink, camping facilities, and even a miniature train ride, this park has something for everyone.
27. The Globe Restaurant and Bar (Berlin)
This used to be the Globe Theater but was renovated in 2006 to the awesome bar and restaurant space it is now. The host book clubs and murder mystery dinners along with other special events. They offer a wide menu with a great selection of cocktails, beers, and martinis. Stop by for dinner and stay late for a drink or two.
28. Babe Ruth Birthplace Museum (Baltimore)
The Babe Ruth Museum is like a trip back in time. Memorabilia and mementos of the Babe cover the exhibits, from his birth to his baseball successes. Here you can see bats, balls, and jerseys all used by Ruth as well as read articles and movies about his legend and influence. If you're a baseball fan, you'll want to spend about 2 hours here.
29. Ocean City Boardwalk (Ocean City)
The Ocean City Boardwalk was opened in 1902 when hotel owners on the beach realized they needed an easy way for their guests to walk between businesses. Believe it or not, the boardwalk first started as a short removable wooden walkway that had to be taken up during high tide and stored on porches. It got longer and longer and, today, it's a three mile long stretch with shops, bars, restaurants, hotels, and historical monuments. Spend a week at Ocean City and explore all three miles.
30. College Park Aviation Museum (College Park)
The College Park Aviation Museum celebrates and promotes the aviation innovations and promotes an interest in research and curiosity about the science and history of flight. Here, you'll find ten aircraft on display, ranging from a replica of the 1910 Wright Model B to a 1946 Ercoupe 415D. There's also aviation related artifacts on display and temporary exhibits that move through. If you are an aviation fan, spend about two hours here and you'll get to see everything.
31. Annmarie Sculpture Gardens and Arts Center (Dowell)
Situated right on the Chesapeake Bay, the Annmarie Sculpture Gardens and Arts Center has a ¼ mile walking path with more than thirty sculptures as well as a butterfly garden, children's garden, and art painted among the trees. They also have an art lab, educational programs, and hold a number of special events. For a walk through the garden, allow yourself an hour or so.
32. Merkle Wildlife Sanctuary (Upper Marlboro)
The Merkle Wildlife Sanctuary is the largest wintering ground for Canadian geese as it hosts several thousand of them every year. Here you'll find four different hiking trails of various lengths, plus driving tour. You can also go bird watching or fishing. If you love the outdoors, you could easily spend a morning or afternoon exploring the sanctuary.
33. National Capital Trolley Museum (Colesville)
Here, you can take trolley rides, see their extensive collection of old streetcars, plus see a lot of special exhibits. They also have some special programs, including story and craft times for children and fieldtrips. If you love trolleys, you can easily spend 2-3 hours here when you visit.
DISPLAYED HERE WITH PERMISSION OF JENS' REVIEWS (second part Tuesday)