By Army Sgt. Dasol Choi1st Armored Brigade Combat Team, 1st Infantry Division
CAMP HOVEY, South Korea, April 25, 2017 — A soldier from the 1st Infantry Division's "Devil" brigade demonstrated his "fight-tonight" readiness by running about 42 miles from here to Yongsan district, Seoul, South Korea, April 8.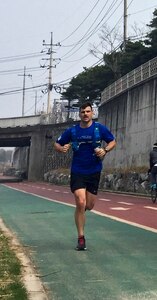 "As odd as it sounds, I personally love running because it is meditative. It helps me clear my head," said Army Capt. Brandon Carius, a physician assistant from 1st Battalion, 5th Field Artillery Regiment. "But for this run specifically, it was another way to challenge myself physically."
To Carius -- who has previously participated in a several marathon events such as twenty regular marathons and nine ultramarathons that included two 100-milers, three 50-milers, and one 100-kilometer run -- running 42 miles was feasible.
"Simultaneously, I also like to challenge myself to run distances, and when I thought about the distance between Camp Hovey and Yongsan, it honestly just seemed natural," the Madison, Connecticut, native said.
Preparation
To maintain physical readiness and prepare for the 42-mile intercity run in South Korea, Carius ran by himself on regular workdays.
"I normally do four runs per week, generally with three of them being 8 to 10 miles and the other one being 14 to 20 miles," Carius said. "A few weeks ago, I did the Seoul Marathon in a time of 3:17:29, which I think definitely helped me prepare, as well."
Before he took off running towards Seoul on April 8, Carius's legs were taxed as he had taken an Army physical fitness test April 3 and done a twelve-mile-ruck march on April 5. However, he tried to keep a steady pace while running.
The 42-mile run took 6 hours and 51 minutes.
"Of course, at the end, my body felt drained, but then I got to eat and bounced back," he said.
The run was not just a physical challenge, Carius said, it also allowed him to view parts of Seoul not usually visited by tourists.
"Running allows me to explore areas in a totally different way and see things from a completely different perspective," he said. "Getting out and on a run is the best way to explore a new area for me. It was awesome to see all the culture and activities of the local people as I ran along their trails."
"Dr. (Maj.) David Anderson, the brigade surgeon, and Dr. (Maj.) Joey Kamerath, a professional filler system provider from 1st Squadron, 4th Cavalry Regiment, 1st ABCT, were my support crew. I couldn't have done it without them," Carius added.