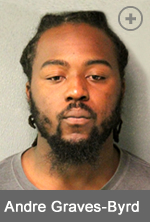 TRENTON – Acting Attorney General John J. Hoffman announced that a man was indicted today for allegedly shooting a man and a woman outside a convenience store in Pleasantville in October 2014 because of an ongoing feud with the man. The two victims were wounded but survived the attack.
Andre Graves-Byrd, 25, of Pleasantville, was indicted by an Atlantic County grand jury on two counts of first-degree attempted murder as well as counts of second-degree unlawful possession of a weapon, second-degree possession of a weapon for an unlawful purpose, and fourth-degree tampering with physical evidence. Each count of attempted murder carries a sentence of 10 to 20 years in state prison, with a period of parole ineligibility equal to 85 percent of the sentence imposed. The weapons charges carry a sentence of five to 10 years in state prison, with a mandatory minimum term of parole ineligibility equal to one-third to one-half of the sentence imposed or 3 ½ years, whichever is greater.
The shooting occurred on the early morning of Oct. 25, 2014, just after midnight, at North Main Street and Pleasantville Avenue in Pleasantville. The male victim, Hector Gonzalez, had entered a nearby convenience store while his girlfriend, Shadaija Morgan, waited outside. Graves-Byrd was a longtime friend of Morgan, which caused Gonzalez to be jealous and fueled a feud between the two men. Graves-Byrd believed Gonzalez had busted out the back window of his car a few days earlier. He also believed Gonzalez had threatened him. While Gonzalez was in the convenience store, Graves-Byrd entered the store and the two men exchanged looks. After Gonzalez left the store and met Morgan, Graves-Byrd allegedly approached and opened fire with a .45-caliber handgun. Gonzalez was hit twice in the abdomen and once in the right arm, and he received a graze wound to his inner thigh. Morgan was shot in the lower back. Both victims were hospitalized but recovered from their wounds. Graves-Byrd fled in a car driven by a male friend and allegedly threw the handgun that he had used in the shooting into the water under the Route 30/Absecon Boulevard drawbridge in Atlantic City. Police searched the water under the bridge but the gun was not found.
Deputy Attorney General James Ruberton presented the case to the grand jury for the Division of Criminal Justice. The case was investigated by the Atlantic City Task Force, which includes the Division of Criminal Justice, New Jersey State Police, Atlantic City Police Department, Atlantic County Prosecutor's Office, Atlantic County Sheriff's Office, Pleasantville Police Department, and New Jersey State Parole Board.
The indictment is merely an accusation and the defendant is presumed innocent until proven guilty. Graves-Byrd is lodged in the Atlantic County Jail with bail set at $100,000 cash.