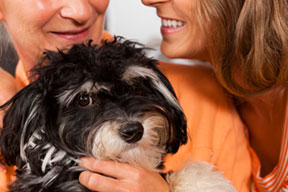 (NewsUSA) - Playing outside isn't just for the kids. Pets love exploring the backyard as well, and while letting Fluffy and Fido out may cut down on fur balls on the carpet, they could be bringing unwanted guests back inside.
The National Pest Management Association (NPMA) reminds homeowners to thoroughly check pets' fur for fleas and ticks after they've been out in the yard or at the park. These pet pests are known to spread diseases to both animals and humans, and can easily infest homes.
Fleas are a very common problem for cats and dogs. Excessive scratching and red bumps can be signs that your pet has fleas. What makes this pest a problem is the ease with which they can transfer to carpets, couches and even humans. They are also difficult to find because of how small they are and how fast they move. Fleas are an itchy annoyance, but they can also cause flea allergy dermatitis and transfer tapeworms. Though rare, fleas can even transmit bubonic plague if they've fed on an infected rodent.
Ticks do not spread as quickly as fleas, but they are known to transfer multiple serious diseases to humans and animals. Lyme disease is one of the most common illnesses spread by ticks and is now seen in people and animals in most regions of the United States. Pets can also suffer from "tick paralysis" if a female tick attaches near a pet's spinal cord.
It is important to look for signs of fleas and ticks, but pet owners can also prevent these pests with a few tips.
* Keep the lawn cut short, and gardens maintained. Fleas and ticks often hide in tall grass waiting for a host to walk by.
* Groom long-haired pets to prevent pests from latching on. Shorter hair is also easier to comb through to look for pests.
* Look out for skin irritations or changes in behavior that might signal an animal is sick.
* Talk with a veterinarian to see whether preventative medication is recommended for your pet.
If you suspect your home has an infestation of any type of pest, be sure to contact a licensed professional to identify and recommend a course of treatment. You can find a professional in your area by visiting www.PestWorld.org.