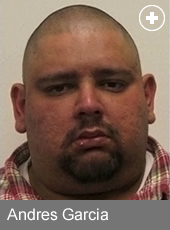 TRENTON – Acting Attorney General John J. Hoffman announced that a Texas man was sentenced to state prison today on a first-degree drug charge stemming from his arrest on I-78 in February 2013 when the New Jersey State Police seized 20 kilos of cocaine from the tractor-trailer he was driving.
Andres Garcia, 35, of San Benito, Texas, was sentenced to 12 years in state prison, including four years of parole ineligibility, by Superior Court Judge Ann R. Bartlett in Warren County.  Garcia pleaded guilty on Feb. 25 to a charge of first-degree possession of cocaine with intent to distribute.  Deputy Attorney General Shontae Gray handled the sentencing for the Division of Criminal Justice Gangs & Organized Crime Bureau.  Deputy Attorney General Andrew C. Fried took the guilty plea.
Garcia was arrested on I-78 in Greenwich Township, N.J., on Feb. 12, 2013, when Sgt. Ron Mistretta of the New Jersey State Police stopped the tractor-trailer full of produce that Garcia was driving for a commercial vehicle inspection.  Mistretta found 20 kilos of cocaine and 64 pounds of marijuana hidden in the ceiling and behind the wall of the sleeper berth of the truck.  The drugs had a street value of approximately $800,000.