- Tip Sheet by AlarmSystemReport.com
Even with the very best home security system, it's still extremely important for home buyers to find a neighborhood that has all the necessary features, and is safe. The team at AlarmSystemReport.com has created a list of ways buyers can find the ideal, safe neighborhood.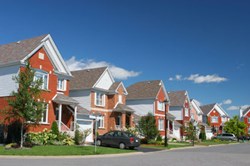 Philadelphia, Pennsylvania (PRWEB) February 22, 2014
When buying a new home, choosing the right neighborhood is just as important as the actual home. A great neighborhood should have all of the necessary amenities, and also be extremely safe. The biggest mistake many homebuyers make is not realizing they're investing in a good neighborhood, as much as a good home.
The neighborhood is going to have an impact on everything from how much driving time is required to get to school and work, to how comfortable homeowners are going outside with their family.
The team at AlarmSystemReport.com, an alarm review site of top companies including Vivint reviews and updated ADT reviews, has put together a list of tips to help buyers determine whether or not a neighborhood will suit their needs.
1.    The best way to determine the safety of a neighborhood is by doing some preliminary research. There are numerous websites that provide crime data for particular areas and neighborhoods, so before making a home purchasing decision, look at the area using these sites. More urban areas have very extensive and detailed information about particular neighborhoods.
2.    In addition to searching for information on the Internet, contact the local law enforcement agency. Not only is it possible to find out criminal activity in the area, but homebuyers can delve into whether or not there's community watch and other similar programs in place in that neighborhood.
3.    Aside from actual statistics, just driving and walking around a neighborhood is a good gauge of how safe it is. Even with the best alarm system for the home, if a neighborhood seems abandoned, dirty or full of things like bars on windows, it's probably not a safe choice. Look for signs of outdoor activity, like families and people outside their lawns. It's also more likely that homes that are well-kept are going to mean a safer neighborhood, since the neighbors take pride in their home and the surrounding area.
4.    Another good indicator of a strong neighborhood is a school that is well-kept and has a good reputation.
5.    In terms of financial value, look into how the property values of the homes in the neighborhood have changed over a five and ten year period.
6.    Aside from safety and value, consider the property taxes of a certain area. This will have a big impact on how much a homeowner is likely able to pay for a home. Ask a realtor if the tax rate has gone up significantly in a five year period, and whether or not upcoming increases are anticipated.
About AlarmSystemReport.com
AlarmSystemReport.com is the leading third party provider of information about home alarm systems, security and safety. From residents searching for information about Rhode Island security systems, all the way to Wyoming security systems, it's all available on AlarmSystemReport.com, in one convenient location.