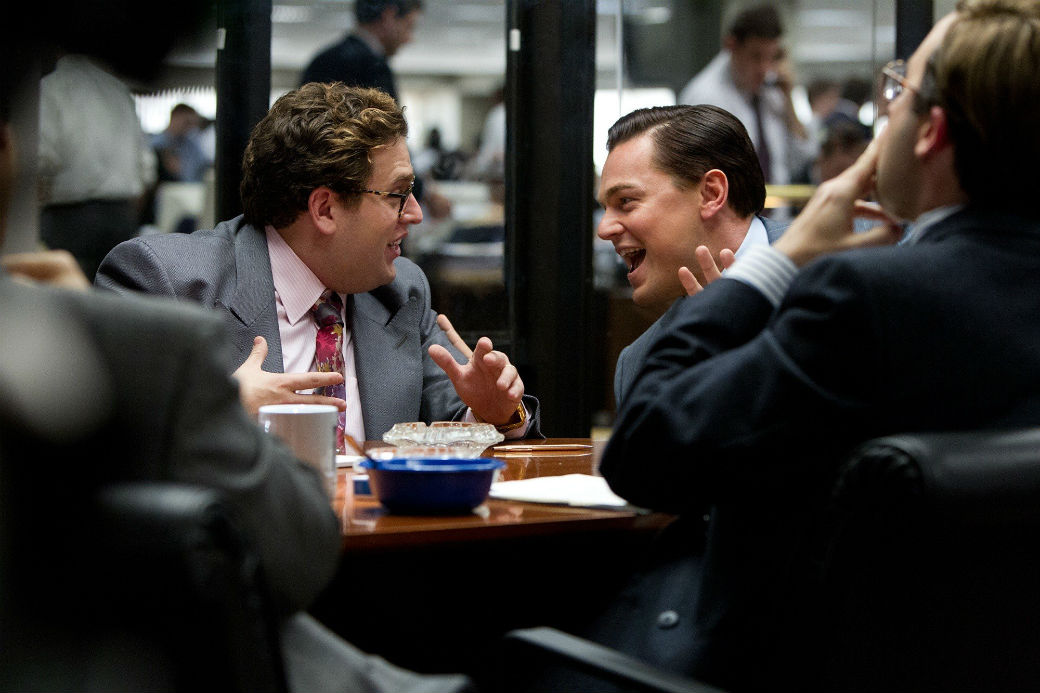 Sex. Drugs. And rock & roll. And a whole lot more drugs. Welcome to lavish world of Martin Scorsese's Wall Street epic, "The Wolf of Wall Street." Featuring Leonardo DiCaprio in perhaps his most off the wall (not to mention finest) performance yet, this film is destined to a long legacy of controversy and praise from moviegoers across the board. Now what does that say about the movie? Well in my humble opinion, this was an absolutely fine outing by the Martin Scorcese/Leonardo DiCaprio partnership. Despite an elongated length that brought out some noticeable pacing issues as well as editing flaws, "The Wolf of Wall Street" is a movie roller coaster unlike all others that boasts a unique script and sharp direction that ensures tremendous and memorable performances from it's cast.
"The Wolf of Wall Street" chronicles the true story of the rise and fall of infamous stockbroker Jordan Belfort (portrayed by DiCaprio). Starting from the bottom of his stock market take over, Belfort gains partnership from the off-beat Donnie Azoff (portrayed by Jonah Hill) and from with a process of selling penny-stocks, the lives of Belfort and Azoff skyrocket into riches. Enormous parties, gratuitous drug use, and unusual business practices rule the world of Jordan Belfort and his employees. But soon after the FBI begins to take notice of Belfort's business, and consequences ensue.
It's no secret that Leonardo DiCaprio is simply one of the most dynamic and talented actors of our current generation. No matter the film, DiCaprio brings an undying energy to the part and makes the film shine bright. Leo does it here in spades. Across the board this is a legendary performance by DiCaprio. Portraying the comedic side while giving balancing to the dramatic needs, Leo just delivers from all angles. He makes the tone issues more bearable and it's just incredible watching the evolution of his character. Although in an almost cameo role, Matthew McConaughey absolutely rocks his screen time as vet stockbroker Mark Hanna. He really is a scene-stealer in the first act of the film and is certainly responsible for one of the most memorable scenes of the movie. Jonah Hill also brings his renowned comedic chops as well as his growing acting range to the film. Unfortunately the love interest of Belfort portrayed by Margot Robbie suffers from weak character development but the actress still provides a consistent performance even if she's shoved to the sideline throughout the film.
With Martin Scorsese in the director's chair, quality is pretty much guaranteed. Scorsese's allegiance with DiCaprio has always fared lovely results, and it's no different here. Scorsese is old school, and you can certainly feel the old school influence throughout the film. He handles his actors in a way that keeps you enthralled throughout most of the run-time. Terrence Winter also provides a unique script with it's character narration and memorable lines. The script is based off of the real life Jordan Belfort's book, "The Wolf of Wall Street". As I mentioned before, this film does suffer from an unjustified run time length. The movie unfortunately suffers from this, facing inevitable pacing issues during the second and third acts of the film. Some scenes certainly drag on later than necessary, and you can feel it. With more time to edit these issues could have been prevented.
In conclusion, this is one of the more fun Scorsese outings in recent years, and another fantastic role for Leonardo DiCaprio. This movie isn't for everyone though, with all the sex and drug use and swear usage (there's enough here to make the "South Park" producers cringe). But for the open-minded audience member, this will certainly earn it's place as one of the best films of 2013.
Montclair State | New Jersey
01.28.2014