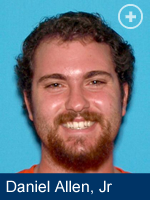 TRENTON – Acting Attorney General John J. Hoffman today announced that a Voorhees, N.J., man has pleaded guilty to distributing child pornography online from a massive stash of hardcore photos and videos found in his laptop, including images of children being raped. The man also posted more than a thousand photos he took of two young girls on a foreign website and asked site users to Photoshop the girls into child pornography. Six other men have been arrested as a result of the ongoing investigation.
Daniel Allen Jr., 23, of Voorhees, pleaded guilty yesterday to second-degree solicitation of the manufacture of child pornography, second-degree distribution of child pornography, and third-degree endangering the welfare of a child before Superior Court Judge Michael J. Kassel in Camden County. Under the plea agreement, the state will recommend that Allen be sentenced to seven years in state prison. He must register as a sex offender under Megan's Law and will be subject to parole supervision for life. Allen is scheduled for sentencing on Dec. 13.
Since Allen's arrest last year, the Division of Criminal Justice and U.S. Immigration and Customs Enforcement's (ICE) Homeland Security Investigations (HSI) have continued a joint investigation into users of the foreign website who communicated with Allen. As a result, they have referred over 60 investigative leads to law enforcement in the U.S. and over 40 leads to foreign agencies related to child pornography and crimes against children. In the U.S., the investigation has led directly to the arrests of six more men – one in New Jersey and five in other states – who traded child pornography with Allen and, in one case, manufactured child porn using the photos Allen took. Information from the probe also has aided outside agencies by providing potential additional leads and evidence in nine cases across North America in which men were independently arrested for child pornography or sexual assaults against children.
"Demand for child pornography directly drives the sexual abuse of children," said Acting Attorney General Hoffman. "That is why these cases are such a priority for us, and why the refrain that simply viewing child pornography online is a victimless crime is as offensive as it is misguided. The users who share these perverse materials motivate the suppliers who produce them, and their use is often part of a continuum of deviant behavior that can lead to sexual assaults against children, as we have seen with some of the leads produced in this case."
"When investigators learned that Allen was exploiting two young girls and exposing them to harm on the Internet, they moved swiftly to arrest him and protect the victims," said Director Elie Honig of the Division of Criminal Justice. "Meanwhile, we continued to pursue leads related to the foreign website Allen was using and pedophiles who communicated with him. We want anyone who shares child pornography on the Internet to know that we have the technology to detect them, and when we do, we'll prosecute them to the full extent of the law."
"HSI will not tolerate those who exploit our children and deprive them of their innocence," said Special Agent in Charge Andrew M. McLees of HSI in Newark. "Through partnerships with state and local law enforcement agencies, HSI will continue to vigorously investigate child exploitation cases like this one."
The investigation was initiated by HSI, which enlisted the Division of Criminal Justice Computer Analysis and Technology Unit after identifying Allen in New Jersey. Deputy Attorney General Kenneth Sharpe prosecuted Allen and took the guilty plea. Sharpe and Sgt. Thomas Turley handled the investigation for the Division of Criminal Justice. Acting Attorney General Hoffman also thanked the New Jersey State Police, the Voorhees Police Department and the Camden County Prosecutor's Office for their assistance.
Allen was arrested at his home on Shingle Oak Drive in Voorhees on Aug. 11, 2012 by the Division of Criminal Justice, HSI, the New Jersey State Police and the Voorhees Police Department. Special agents from HSI were monitoring the foreign-based website when they noticed that a user was posting hundreds of photos of the same two pre-teenage girls on the site and urging pedophiles who frequent the site to "comment dirty" and digitally combine the photos with child pornography. The girls were clothed in the posted photos, but the user's desire to see them incorporated into child pornography raised serious concerns about their safety. HSI immediately moved to trace the communications and identify Allen and his victims. When law enforcement arrested Allen, they also took steps to protect the two victims.

The agencies executed a search warrant at Allen's home the day he was arrested, seizing his laptop computer and a USB flash drive. A forensic examination of his computer equipment revealed that he possessed approximately 15,000 still images of child pornography and approximately 200 videos of child pornography. Some of the videos and images depicted prepubescent children being tortured and raped. Allen's email account revealed that he had been exchanging child pornography with others on the foreign website and had, in fact, received child pornography that had been digitally combined with his images of the pre-teen girls.
The Division of Criminal Justice and HSI continued their broader investigation by targeting offenders who communicated with Allen through the website and shared child pornography with him. Pedophiles continued to send emails to his email account containing child pornography and discussions of their desire to molest children. Leads generated by this investigation resulted in arrests of the following six persons to date:
Todd Gregory Nichols, 43, of Williamstown, N.J., was arrested in January 2013 by the Division of Criminal Justice and HSI. He allegedly sent images of child pornography to Allen's e-mail account. He faces state charges of possession and distribution of child pornography. Nichols allegedly communicated to Allen that he photographs young girls in his neighborhood.
James Goelz, 76, of Wheatland, Wyoming, was arrested in October 2012 by the Oregon Department of Justice. He pleaded guilty to trading child pornography with Allen Jr. and to traveling to Oregon for the purpose of engaging in sex with a minor. Goelz is registered as a sex offender in the State of Wyoming as a result of his plea.
Gary Mitchell Luxenberg, 69, of Garland, Texas, a registered sex offender, was arrested on Oct. 2, 2012 by Garland Police and HSI. Luxenberg was visiting the foreign-based website at the time of his arrest. Child pornography was found on his computer. He pleaded guilty to federal child pornography charges and is awaiting sentencing.
Christopher James Vesper, 33, of Bracey, Virginia, was arrested in April 2013 by HSI and the Virginia State Police. He allegedly traded child pornography with Allen.
John Scarano, 42, of Royersford, Pennsylvania, was arrested on Nov. 28, 2012 by the Montgomery County, Pa., District Attorney's Office and HSI-Philadelphia. He is charged with manufacturing child pornography with the images of the two pre-teenage girls provided by Allen, as well as possession and distribution of child pornography.
Tyler Andrew Smith, 23, of Ponce Inlet, Florida, was arrested in May 2013 by the Daytona Beach, Fla., Police Department and HSI. Smith allegedly traded child pornography with Allen.
Acting Attorney General Hoffman and Director Honig urged anyone with information about any of these defendants or other offenders to contact law enforcement. If you have information about the distribution of child pornography on the Internet or suspect improper contact by unknown persons communicating with children via the Internet or possible exploitation or sexual abuse of children, please contact the New Jersey Internet Crimes Against Children Task Force Tipline at 1-888-648-6007.