Warns Teens About Underage Drinking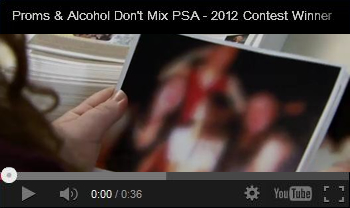 TRENTON – The Division of Alcoholic Beverage Control (ABC) began today its annual campaign to warn teens about the dangers of alcohol during the prom season when it unveiled the winning submission for the annual "Proms and Alcohol Don't Mix" public service announcement contest.
The 30-second commercial was written by Robbinsville High School students Abby Schneider, Ciera Valyo, Diana Rackowski, Krystina Layton, Bruce Sapp and Caleigh McKeown. The PSA will run throughout the spring prom season on cable and local television stations throughout New Jersey and will be posted on YouTube and on the Division's web site.
The PSA, which features the students, illustrates the dangers of underage drinking when the students retrieve their printed prom photos and discover embarrassing, blurry pictures from their big night out. After excitedly walking into the print shop, two students walk out ashamed by what they found in the photos.
"We believe the contest and this PSA perfectly communicate our message that drinking underage can have social and physical consequences that teens should avoid," Division Alcoholic Beverage Control Director Michael Halfacre said. "It's clear to us from the quality and number of submissions we receive for this contest every year that there are many high school students in New Jersey that are actively interested in engaging in a constructive dialogue with their peers about underage drinking."
The consequences of mixing alcohol with proms and graduation festivities can include emotional and legal ramifications, Halfacre said. Possession of alcohol while under the legal age is a disorderly person's offense, and penalties could include fines of at least $500 as well as a six-month suspension of a driver's license.
The winners' script was judged best among the 49 submissions in January by a panel comprised of senior ABC staff, media specialists and teen substance abuse advocates. A production team from Rutgers University went on-site at World Center Printing in Hamilton Square in Mercer County in January to shoot the spot.
The winners and other distinguished entrants will be honored by the Department of Law and Public Safety and Division of Alcoholic Beverage Control on May 22 at the New Jersey State Museum in Trenton.  
1st Runner Up -
North Brunswick Township High School, North Brunswick
Matt Arcure, Jennelle Smoot and Vani Wacher 
2nd Runner Up -
Cherry Hill High School West
Max Matez and Edward Dunn
Honorable Mention
Hillside High School, Hillside
Elijah Johnson, Sonia Moreira, Tirrell Mixson, Emily Noblecilla and Esterlin Lantigua
Henry Snyder High School, Jersey City
Uvash Seeraj, Quadesha Branch and Christian Balbutin
North Brunswick Township High School, North Brunswick
Morgan Comunale
Central Regional High School, Bayville
Nick Castrovilly and Austin Steinbrick
Pequannock Township High School, Pompton Plains
Dan Ulrich and Dan Ryan
Henry Hudson Regional School, Highlands
Rich Knochel and Michael Giglio
Marlboro High School, Marlboro
Carmine Gallo
Cherry Hill High School East, Cherry Hill
Damian Stuchko