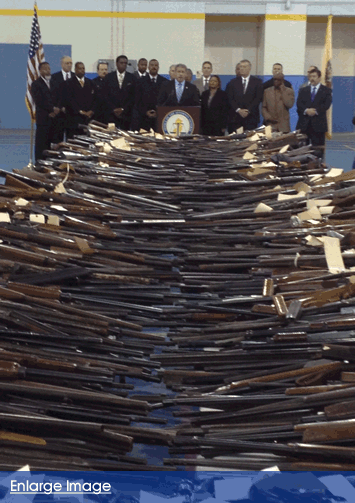 TRENTON -- Attorney General Jeffrey S. Chiesa announced today that more than 2,000guns were turned in by Atlantic County residents during a state-sponsored gun buyback event held at churches in Pleasantville and Atlantic City this past weekend.
According to Chiesa, county residents turned in a total of 2,061 guns – including 14 assault weapons and more than 1,000 handguns -- during the two-day buyback held at the Faith Baptist Church in Pleasantville and the Second Baptist Church in Atlantic City.
The number of guns obtained in Atlantic County brings to 9,153 the total number of firearms collected so far as a result of five state-led gun buybacks. A buyback held in Camden County last December yielded 1,137 guns. A buyback in Mercer County in January brought in another 2,604 firearms. A February buyback held in Essex County resulted in the collection of another 1,770 guns, and a buyback in Monmouth County earlier this month brought in another 1,581 weapons.
Attorney General Chiesa said this past weekend's strong turn-out in Atlantic County demonstrates continued, enthusiastic public support for the state-led buyback initiative. He noted that, throughout the buyback campaign, many residents selling back their weapons have expressed concern about gun violence in their communities, and a desire to help rid their neighborhoods of deadly firearms.
"It's a credit to the residents of Atlantic County that we took so many lethal weapons off the street this past weekend," Chiesa said during a press conference at the Atlantic County Armory in Atlantic City. "Through their strong desire to have safer neighborhoods, we got more than 2,000 guns out of circulation. Those guns can never be stolen in a burglary and then used in a street crime. They'll never be used to terrorize an innocent person, turn an argument into a tragedy, kill a curious child, or claim the life of one of our brave police officers. "
"The success of this program is an example of what can be accomplished when law enforcement and the community which it serves work together toward a common goal," Atlantic County Acting Prosecutor Jim McClain stated. "In addition to our faith-based partners in this project, I would also like to thank and commend the members of the Coalition for a Safer Community, who worked very hard to get the word out and create positive energy for this program within the community."
Among other weapons, the Atlantic County gun buyback brought in 445 shotguns, 411 rifles and 348 semi-automatic handguns.
According to Attorney General Chiesa, a total of approximately $280,000 in state and county criminal forfeiture funds were used to buy back the firearms – the vast majority of them operable and capable of taking a life or maiming someone.
Chiesa acknowledged that gun buybacks alone can't solve the complex and multi-faceted problem of gun violence, but he called them a crucial element of a broader strategy aimed at reducing shooting deaths and injuries in New Jersey.
"There is no question that buybacks are part of the overall solution. And we believe they're making a real difference throughout our state, particularly in light of the hundreds of illegal guns we've been able to take out of circulation," the Attorney General said, referring to guns that are unlawful to own either because they feature excessively high magazine capacities, have been sawed-off, or have been modified in other ways.
The Atlantic County buyback yielded 119 illegal guns, bringing to more than 1,100 the number of illegal firearms removed from circulation to date through state-led buybacks.
The Atlantic County buyback event was a cooperative effort involving the Atlantic County Prosecutor's Office, New Jersey State Police, the state Division of Criminal Justice, the state Division of Gaming Enforcement, the Atlantic City Tourism District, the Atlantic County Sheriff's Office and the faith-based community in Atlantic County.
Noting that their involvement was particularly crucial to the success of the gun buyback, Attorney General Chiesa again thanked Rev. Collins A. Days, Sr. of the Second Baptist Church of Atlantic City and Rev. Milton Hendricks of the Faith Baptist Church in Pleasantville for their leadership, and their continued support.
Those who turned in their weapons during the "no questions asked" buyback were paid up to $250 per gun, and the maximum number of guns that could be turned in was three.