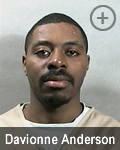 TRENTON – Attorney General Jeffrey S. Chiesa announced that a Newark man was indicted today for allegedly stealing approximately $1.2 million from two mortgage lenders by using a stolen identity and false information to obtain two home loans, which he used to sell his home in Newark and acquire a luxury home in Georgia.
Davionne Anderson, 41, of Newark, and his unregistered real estate investment company, AAA Investment Group, were each charged in a five-count state grand jury indictment with two counts of second-degree theft by deception, two counts of second-degree identity theft and one count of third-degree money laundering. The charges stem from an investigation by the Division of Criminal Justice Financial & Computer Crimes Bureau.
In April and May of 2007, Anderson and AAA allegedly used a woman's stolen identity and false information to obtain a total of $1,205,250 in loans, which Anderson used to buy two homes in the woman's name: a home that he himself owned in Newark, and a home in Georgia that was owned by an innocent seller who was unaware of the fraud. Anderson obtained a $260,000 loan from Chase Mortgage Company for the Newark home, and a $945,250 loan from Sun Trust, Inc., for the Georgia home. After completing the phony sale of his own home and acquiring the Georgia home in the name of the unsuspecting buyer, Anderson moved into the Georgia home with his wife.
"Using a single stolen identity and two fraudulent loan applications, this defendant from Newark allegedly stole over a million dollars from lenders and attempted to settle into a luxury home in Georgia that we allege he never intended to pay for," said Attorney General Chiesa. "We're aggressively targeting mortgage fraud, which causes major losses for lenders and ultimately raises the cost of borrowing for honest homeowners."
"The Division of Criminal Justice regularly investigates and prosecutes complex white collar crime cases, including mortgage fraud and money laundering offenses," said Stephen J. Taylor, Director of the Division of Criminal Justice. "We're working hard to rid the marketplace of con artists in order to protect lenders, investors and homeowners."
The buyer of the two homes was unaware that Anderson was purchasing them in her name. Anderson had obtained her personal information while attempting to get her to invest in real estate through his company, but she never agreed to any investments. It is alleged that Anderson and AAA fraudulently obtained the loans by submitting loan applications and HUD settlement forms containing fabricated information about the woman's employment and earnings. Her signature was forged on the closing documents. Because no payments were made on the two mortgages, the buyer's credit was ruined and both homes went into foreclosure.
Supervising Deputy Attorney General Francine Ehrenberg, Deputy Chief of the Division of Criminal Justice Financial & Computer Crimes Bureau, presented the case to the state grand jury. The investigation was conducted by Sgt. Robert Walker and Deputy Attorney General Ehrenberg. Deputy Attorney General Frank Brady is assigned to prosecute the case.
Second-degree crimes carry a sentence of five to 10 years in state prison and a $150,000 fine. Third-degree money laundering carries a sentence of three to five years in prison, a $15,000 fine, and a $75,000 anti-money laundering profiteering penalty. The indictment is merely an accusation and the defendants are presumed innocent until proven guilty.