Dear Friends, 

I trust you are enjoying your summer. I know we are here at SCTC. Our sixth season was filled with so much excitement, so much work and so many firsts, that it feels good to take a breath.  Not only did we move into the Waterfront South Theatre, but for the first time we produced four major works on our new stage in this state-of-the-art facility.
And, even more exciting is the fact that from September 10, 2010  through May 20, 2011 we welcomed nearly 5,000 people into the theatre.  When you stop and think about it, this is an incredible accomplishment for our young theatre company. And, we have you to thank for it. I can remember not long ago, the nay-sayers were certain, "no one would come."  Thanks for proving them wrong.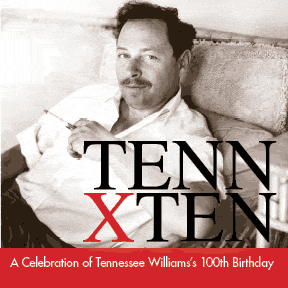 As the summer heats up, so are our plans for a season that is truly one of a kind.  Our seventh season, 
TENN X TEN
, celebrates the life and work of one of America's greatest playwrights, Tennessee Williams.   Learn more or purchase season passes by visiting our 
website
. 
You can also help us by taking a moment to 
VOTE
 for us in the PHILLY HOT LIST contest for 
Best Theatre Group
. Just 
click here
and sign-up to vote or sign-in with your Facebook account, and tell your friends! (We're currently in fourth place...and we know we can be #1 with your help.)
One last request.  As we are in the middle of the year and half way
to our annual appeal and 

fundraising goal, please help us reach our goal of $10,000 before the opening of our season in October. If you can give $25 (or more) toward our appeal, it will help us defray the cost of our productions, which in-turn keeps the cost of our ticket prices down. 
Thanks for your continued support. I look forward to seeing you at Waterfront South Theatre. 
Warmest regards,

Joseph M. Paprzycki
Producing Artistic Director