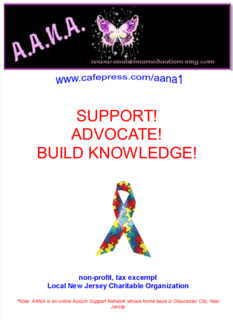 Hello Mr. Cleary, 
My name is Marie Daley and I am a resident of Gloucester City. I am sure you may remember me via comments through CNB although it is sporadic. I have started an Autism Social Network online, and would love for the word to reach Gloucester Residents. It is a charitable organization, but under the line because we limit how much funds we raise per year. The charity aspect of AANA is at the moment not our main goal. Our main goal is offering a site of support and resources for numerous sides of the Autism Spectrum.

AANA's members range from Parents, Grandparents, Educators, and ones with Autism themselves.

Recently WeGo Health sponsored AANA for a year due to our mission. I would love it if you could post AANA on CN to help reach our local families of the site. 
Below you will find the link to our site. Due to WeGo hosting our site, I am pleased by the amount of supports AANA has gained in the past year of being available. We have numerous ways to reach out to members, via groups, videos, live chats, and BlogTalkRadio. 
Another goal of AANA is to break off from the online aspect and go into individual communties in the future. Your support and help would be greatly appreciated.

Thank you
Marie Daley AANA Administration.

Link to AANA's Site Click Here