Sam's Italian Market and Bakery (http://www.samsitalianmarket.net) is excited to announce the annual Easter Egg Raffle from March 28 - April 18. The winner will receive a ten pound, three-foot tall, hollow, imported Italian chocolate Easter egg.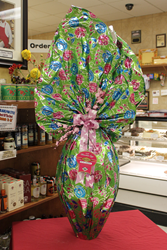 Willow Grove, Pennsylvania (PRWEB) March 24, 2014
This is Sam's Italian Market and Bakery's fourth year raffling off the Easter egg with all proceeds going to the non-profit, Gia Nicole Angel Foundation. The Foundation's mission is to enhance the daily functioning of a child with special needs and his or her family by awarding assistance through the purchase of a specific item or items. This includes children with any physical disability or illness. Join the community in helping these children and their families by purchasing a raffle ticket(s) between March 28 and April 18. The winner will be announced on Saturday, April 20.
Sam's Italian Market and Bakery, a unique family owned market has been serving Willow Grove since Sam Mele started the
Continue reading "Sam's Italian Market and Bakery Announces Annual Easter Egg Raffle" »