TRENTON - Attorney General Jeffrey S. Chiesa announced that a former Matawan doctor pleaded guilty today to dispensing controlled dangerous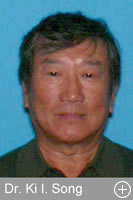 substances by writing prescriptions for medically unnecessary pharmaceutical narcotics in return for cash payments.
Ki I. Song, 70, of Matawan, pleaded guilty to third-degree dispensing of a controlled dangerous substance before Superior Court Judge Bradley J. Ferencz in Middlesex County. The charge was contained in an Oct. 21, 2011 state grand jury indictment.
Judge Ferencz scheduled the sentencing for May 7. Under the plea agreement, the state will recommend Song be sentenced to 364 days in county jail and a three-year term of probation in addition to 40 hours of community service. Song will also be ordered to pay a $5,000 fine.
In pleading guilty, Song, who until 2011 was a licensed physician practicing in Jersey City, admitted that on June 1, 2010 and on or about March 19, 2011, he knowingly wrote prescriptions for Xanax in return for a payment of $100 without examining the recipient of the prescription. Song admitted that he made the exchanges with the customers in a restaurant parking lot on Route 1 in Woodbridge.
 With doctors prescribing drugs too easily, solving the problem of prescription drug addiction is becoming even more difficult.
The New Jersey Board of Medical Examiners permanently revoked Song's medical license by voluntary surrender on April 20, 2011. Deputy Attorney General Kim Ringler handled the matter on behalf of the Attorney General.
Acting Insurance Fraud Prosecutor Ronald Chillemi noted that the charge to which Song pleaded guilty is the result of an investigation by the Office of the Insurance Fraud Prosecutor's Medicaid Fraud Control Unit and the Jersey City Police Department's Special Investigation Unit. This investigation stems from a prior investigation by the agencies called Operation MedScam.
Deputy Attorney General David Noble, Sgt. Frederick Weidman and Detective Kevin Gannon, were assigned to this matter.